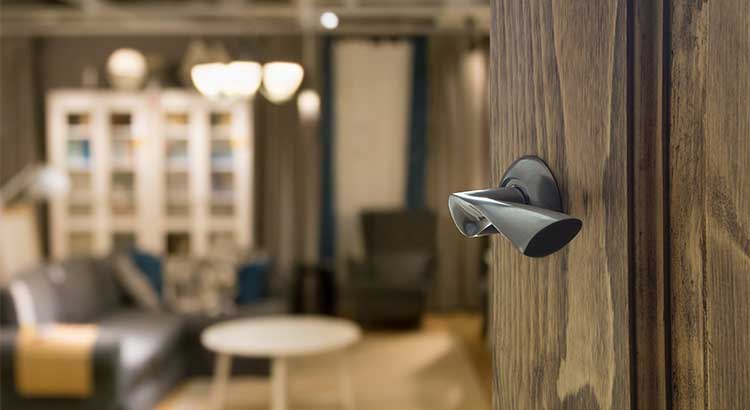 So, you've decided to sell your house. You've hired a real estate professional to help you through the entire process, and they have asked you what level of access you want to provide to your potential buyers.
There are four elements to a quality listing. At the top of the list is Access, followed by Condition, Financing, and Price. There are many levels of access that you can provide to your agent so that he or she can show your home.
Here are five levels of access that you can give to buyers, along with a brief description:
Lockbox on the Door – this allows buyers the ability to see the home as soon as they are aware of the listing, or at their convenience.
Providing a Key to the Home – although the buyer's agent may need to stop by an office to pick up the key, there is little delay in being able to show the home.
Open Access with a Phone Call – the seller allows showings with just a phone call's notice.
By Appointment Only (example: 48-Hour Notice) – Many buyers who are relocating for a new career or promotion start working in that area prior to purchasing their home. They often like to take advantage of free time during business hours (such as their lunch break) to view potential homes. Because of this, they may not be able to plan their availability far in advance or may be unable to wait 48 hours to see the house.
Limited Access (example: the home is only available on Mondays or Tuesdays at 2pm or for only a couple of hours a day) – This is the most difficult way to be able to show your house to potential buyers.
With May proving to be the best month to sell your home, access can make or break your ability to get the price you are looking for, or even sell your house at all.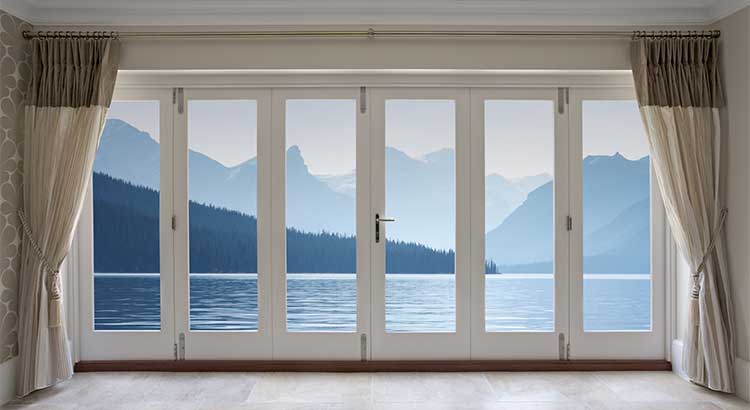 Mortgage interest rates have risen by more than half of a point since the beginning of the year, and many assume that if mortgage rates rise, home values will fall. History, however, has shown this not to be true.
Where are home values today compared to the beginning of the year?
While rates have been rising, so have home values. Here are the most recent monthly price increases reported in the Home Price Insights Report from CoreLogic:
January: Prices were up 0.5% over the month before.
February: Prices were up 1% over the month before.
March: Prices were up 1.4% over the month before.
Not only did prices continue to appreciate, the level of appreciation accelerated over the first quarter. CoreLogic believes that home prices will increase by 5.2% over the next twelve months.
How can prices rise while mortgage rates increase?
Freddie Mac explained in a recent Insight Report:
"In the current housing market, the driving force behind the increase in prices is a low supply of both new and existing homes combined with historically low rates. As mortgage rates increase, the demand for home purchases will likely remain strong relative to the constrained supply and continue to put upward pressure on home prices."
Bottom Line
If you are thinking about moving up to your dream home, waiting until later this year and hoping for prices to fall may not be a good strategy.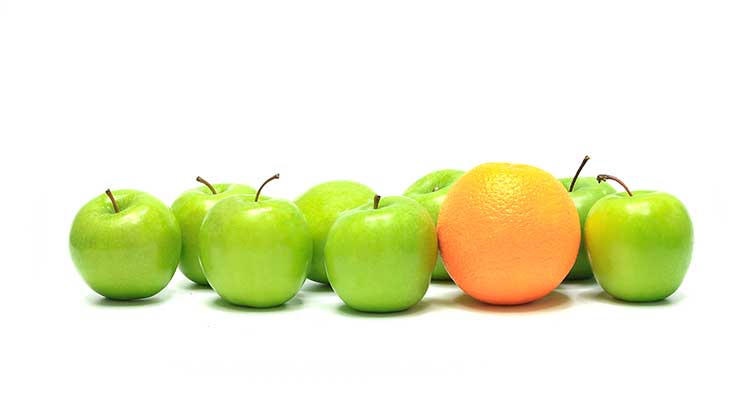 With home prices rising again this year, some are concerned that we may be repeating the 2006 housing bubble that caused families so much pain when it collapsed. Today's market is quite different than the bubble market of twelve years ago. There are four key metrics that explain why:
Home Prices
Mortgage Standards
Mortgage Debt
Housing Affordability
1. HOME PRICES
There is no doubt that home prices have reached 2006 levels in many markets across the country. However, after more than a decade, home prices should be much higher based on inflation alone.
Frank Nothaft is the Chief Economist for CoreLogic (which compiles some of the best data on past, current, and future home prices). Nothaft recently explained:
"Even though CoreLogic's national home price index got to the same level it was at the prior peak in April of 2006, once you account for inflation over the ensuing 11.5 years, values are still about 18% below where they were." (emphasis added)
2. MORTGAGE STANDARDS
Some are concerned that banks are once again easing lending standards to a level similar to the one that helped create the last housing bubble. However, there is proof that today's standards are nowhere near as lenient as they were leading up to the crash.
The Urban Institute's Housing Finance Policy Center issues a Housing Credit Availability Index(HCAI). According to the Urban Institute:
"The HCAI measures the percentage of home purchase loans that are likely to default—that is, go unpaid for more than 90 days past their due date. A lower HCAI indicates that lenders are unwilling to tolerate defaults and are imposing tighter lending standards, making it harder to get a loan. A higher HCAI indicates that lenders are willing to tolerate defaults and are taking more risks, making it easier to get a loan."
The graph below reveals that standards today are much tighter on a borrower's credit situation and have all but eliminated the riskiest loan products.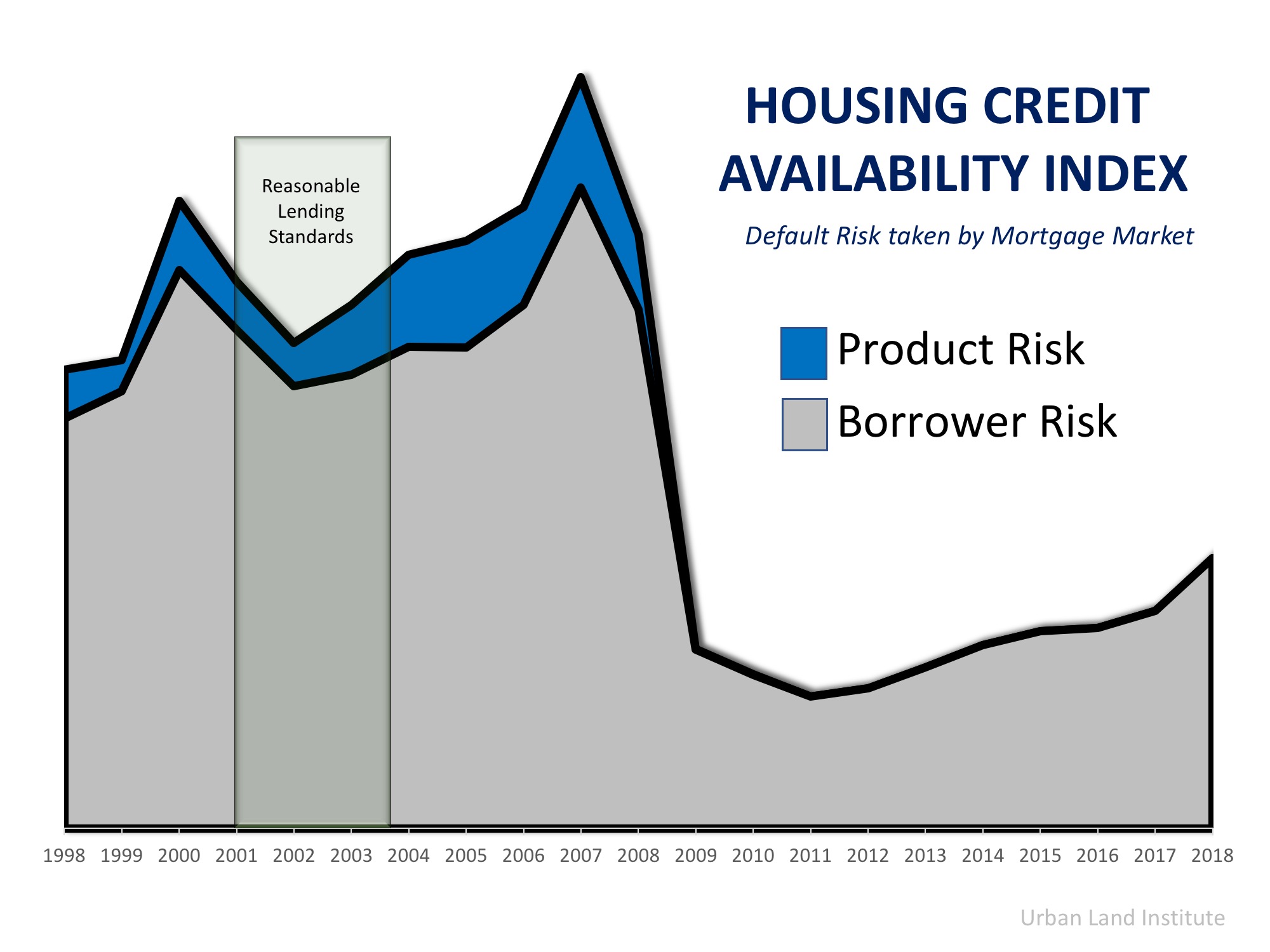 3. MORTGAGE DEBT
Back in 2006, many homeowners mistakenly used their homes as ATMs by withdrawing their equity and spending it with no concern for the ramifications. They overloaded themselves with mortgage debt that they couldn't (or wouldn't) repay when prices crashed. That is not occurring today.
The best indicator of mortgage debt is the Federal Reserve Board's household Debt Service Ratio for mortgages, which calculates mortgage debt as a percentage of disposable personal income.
At the height of the bubble market a decade ago, the ratio stood at 7.21%. That meant over 7% of disposable personal income was being spent on mortgage payments. Today, the ratio stands at 4.48% – the lowest level in 38 years!
4. HOUSING AFFORDABILITY
With both house prices and mortgage rates on the rise, there is concern that many buyers may no longer be able to afford a home. However, when we look at the Housing Affordability Index released by the National Association of Realtors, homes are more affordable now than at any other time since 1985 (except for when prices crashed after the bubble popped in 2008).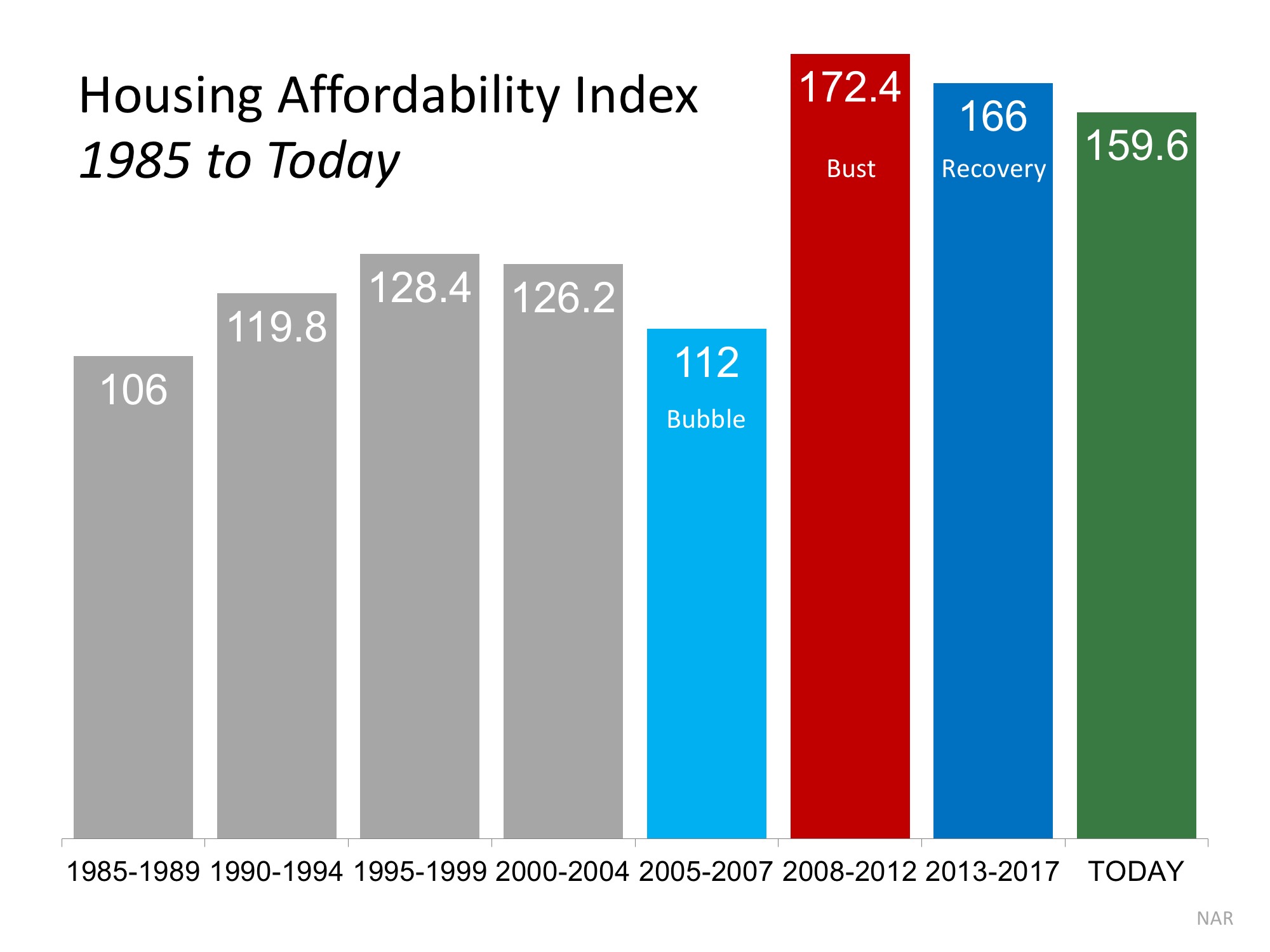 Bottom Line
After using four key housing metrics to compare today to 2006, we can see that the current market is not anything like the bubble market.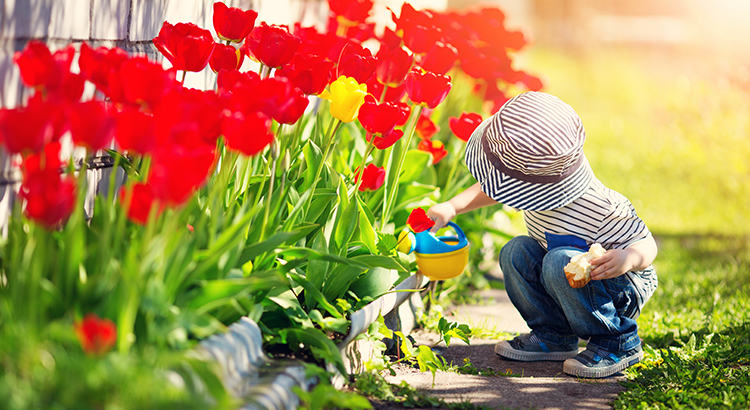 According to a newly released study by ATTOM Data Solutions, selling your home in the month of May will net you an average of 5.9% above estimated market value for your home.
For the study, ATTOM performed an "analysis of 14.7 million home sales from 2011 to 2017" and found the average seller premium achieved for each month of the year. Below is a breakdown by month: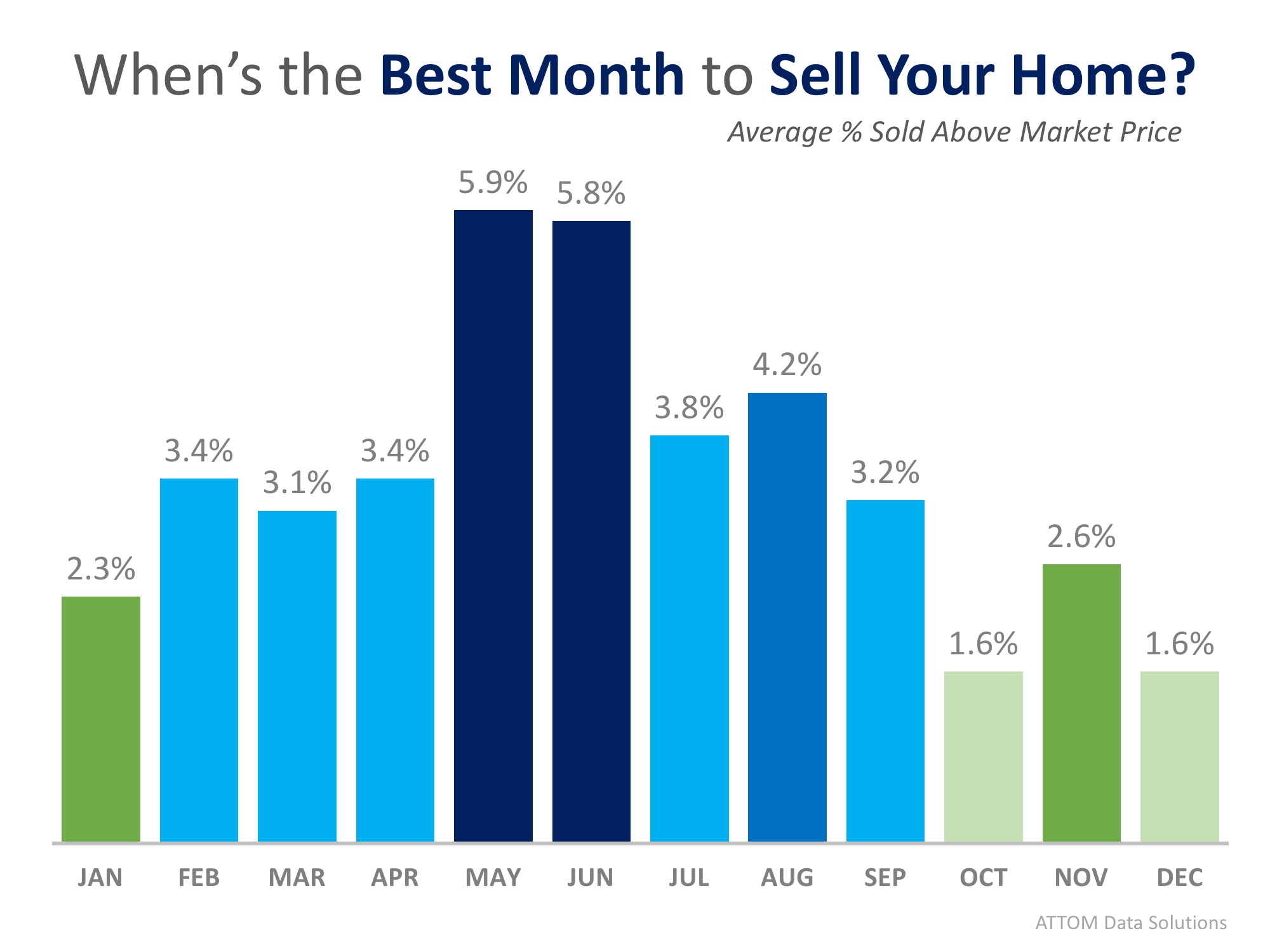 ATTOM even went a step further and broke their results down by day.
Top 5 Days to Sell:
June 28th – 9.1% above market
February 15th – 9.0% above market
May 31st – 8.3% above market
May 29th – 8.2% above market
June 21st – 8.1% above market
It should come as no surprise that May and June dominate as the top months to sell and that 4 of the top 5 days to sell fall in those two months. The second quarter of the year (April, May, June) is referred to as the Spring Buyers Season, when competition is fierce to find a dream home, which often leads to bidding wars.
One caveat to mention though, is that when broken down by metro, ATTOM noticed that while warmer climates share in the overall trend, it turns out that they have different top months for sales. The best month to get the highest price in Miami, FL, for instance, was January, and Phoenix, AZ came in with November leading the charge.
If you're thinking of selling your home this year, the time to list is NOW! According to the National Association of Realtors, homes sold in an average of just 30 days last month! If you list now, you'll have a really good chance to sell in May or June, setting yourself up for getting the best price!
Bottom Line
Let's get together to discuss the market conditions in our area and get you the most exposure to the buyers who are ready and willing to buy!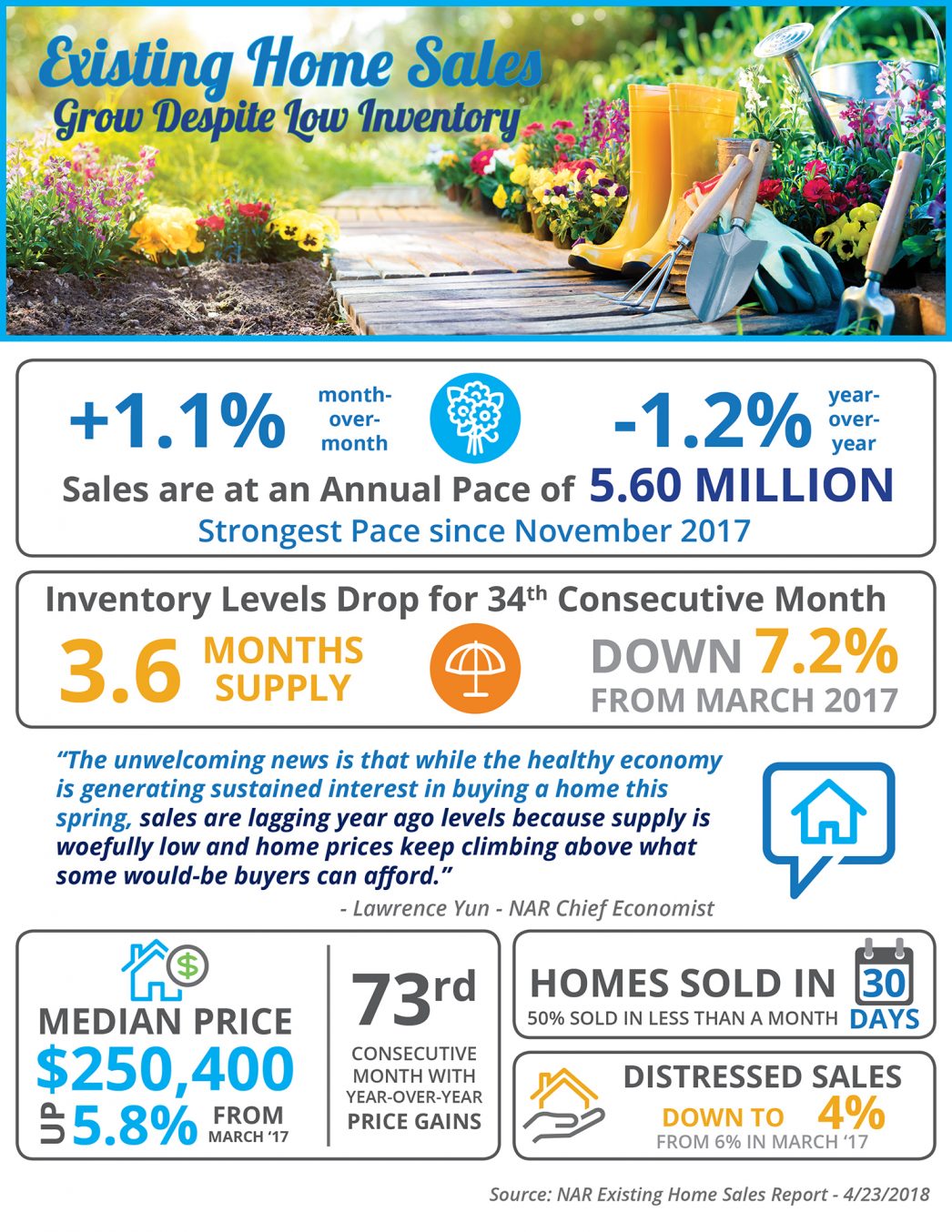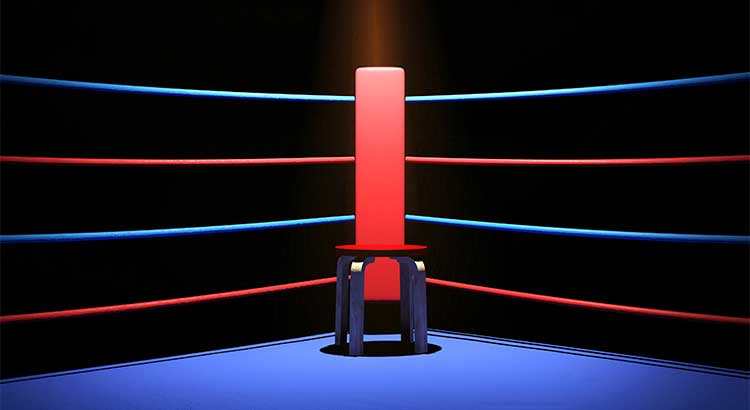 With home prices on the rise and buyer demand strong, some sellers may be tempted to try and sell their homes on their own (FSBO) without using the services of a real estate professional.
Real estate agents are trained and experienced in negotiation and, in most cases, the seller is not. Sellers must realize that their ability to negotiate will determine whether or not they get the best deal for themselves and their families.
Here is a list of some of the people with whom the seller must be prepared to negotiate if they decide to FSBO:
The buyer who wants the best deal possible
The buyer's agent who solely represents the best interest of the buyer
The buyer's attorney (in some parts of the country)
The home inspection companies, which work for the buyer and will almost always find some problems with the house
The termite company if there are challenges
The buyer's lender if the structure of the mortgage requires the sellers' participation
The appraiser if there is a question of value
The title company if there are challenges with certificates of occupancy (CO) or other permits
The town or municipality if you need to get the CO permits mentioned above
The buyer's buyer in case there are challenges with the house your buyer is selling
Your bank in the case of a short sale
Bottom Line
The percentage of sellers who have hired real estate agents to sell their homes has increased steadily over the last 20 years. Let's get together and discuss all we can do to make the process easier for you.
$560,000! Beautiful 3 sided brick home in Pope High School district!! Original owner, lovingly cared for home, loads of space with fabulous flowing floor plan. Hardwoods on the main level, spacious kitchen with view to family room and sunny breakfast area! Master on the Main with updated master bath, dual vanities with granite counters and large garden tub! Nice secondary bedrooms upstairs with 2 full baths and additional bonus room or bedroom. Tons of storage! Fabulous finished basement with large living area with trey ceiling, bedroom and full bath plus 3rd garage! GORGEOUS level backyard- side entry garage! Newer Roof! Active Swim/Tennis community! Check out the virtual tour!  Call me to arrange a showing today!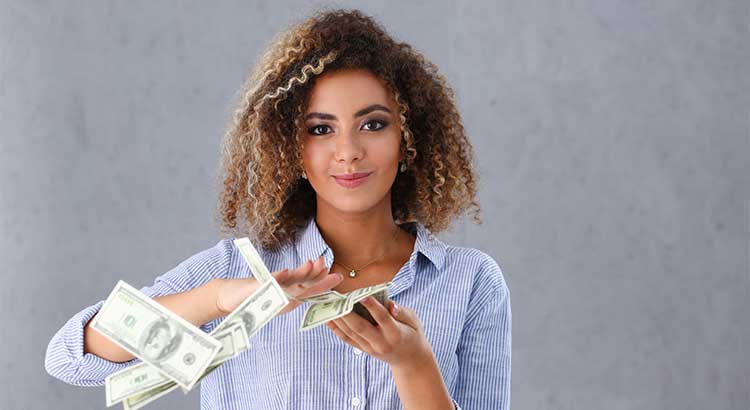 It's no mystery that cost of living varies drastically depending on where you live, so a new study by GOBankingRates set out to find out what minimum salary you would need to make in order to buy a median-priced home in each of the 50 states, and Washington, D.C.
States in the Midwest came out on top as most affordable, requiring the smallest salaries in order to buy a median-priced home. States with large metropolitan areas saw a bump in the average salary needed to buy with California, Washington, D.C., and Hawaii edging out all others with the highest salaries required.
Below is a map with the full results of the study:
GoBankingRates gave this advice to anyone considering a home purchase,
"Before you buy a home, it's important to find out if you can afford the monthly mortgage payment. To do this, some financial experts recommend your housing costs — primarily your mortgage payments — shouldn't consume more than 30 percent of your monthly income."
As we recently reported, research from Zillow shows that historically, Americans had spent 21% of their income on owning a median-priced home. The latest data from the fourth quarter of 2017 shows that the percentage of income needed today is only 15.7%!
Bottom Line
If you are considering buying a home, whether it's your first time or your fifth time, let's get together to evaluate your ability to do so in today's market!
$169,000! Absolutely Charming Townhome In Fabulous Location!! Fresh Designer Paint Throughout, Hardwood Floors On Main Level With Cozy Fireplace! NEW Granite and Sink and Faucet In Kitchen! Spacious Master Bedroom With Skylights and Vaulted Ceilings, Walk-In Closet and Master Bath With Separate Shower and Garden Tub! Large Secondary Bedroom & Full Bath Upstairs. Very Private FENCED backyard! Less Than 2 Miles To Marietta Square! Walk To Schools and Shopping! Hurry! This Gem Won't Last Long! Check out the Virtual Tour!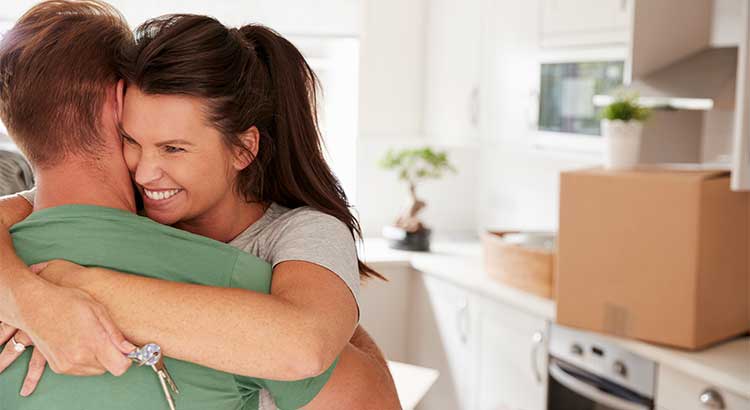 According to the Beracha, Hardin & Johnson Buy vs. Rent (BH&J) Index, the U.S. housing market has continued to move deeper into buy territory, supporting the belief that housing markets across the country remain a sound investment.
The BH&J Index is a quarterly report that attempts to answer the question:
In today's housing market, is it better to rent or buy a home?
The index examines the entire US housing market and then isolates 23 major cities for comparison. The researchers "measure the relationship between purchasing property and building wealth through a buildup in equity versus renting a comparable property and investing in a portfolio of stocks and bonds." 
While 13 of the 23 metropolitan markets examined moved further into buy territory, markets like Dallas, Denver, and Houston are currently deep into rent territory. Due to a lack of inventory, the home prices in these areas have increased by 6.7%, 6.3%, and 5.3%  respectively from a year ago.
According to Eli Beracha, Ph.D., Co-Creator of the index, home prices will begin to return to more normal levels.
"Our data indicates that prices are above their 40-year trend but not significantly so as they were in 2007. Rather than a crash, I anticipate slower growth in prices accompanied by longer marketing times for sellers and increasing inventories, which should bring prices back in conjunction with their 40-year trend."
Bottom Line
The majority of the country is strongly in buy territory. Buying a home makes sense socially and financially, as rents are predicted to increase substantially in the next year. Protect yourself from rising rents by locking in your housing cost with a mortgage payment now. 
To Find Out More About the Study: The BH&J Index and other FAU real estate activities are sponsored by Investments Limited of Boca Raton. The BH&J Index is published quarterly and is available online at http://business.fau.edu/buyvsrent.