Buyer Tips Category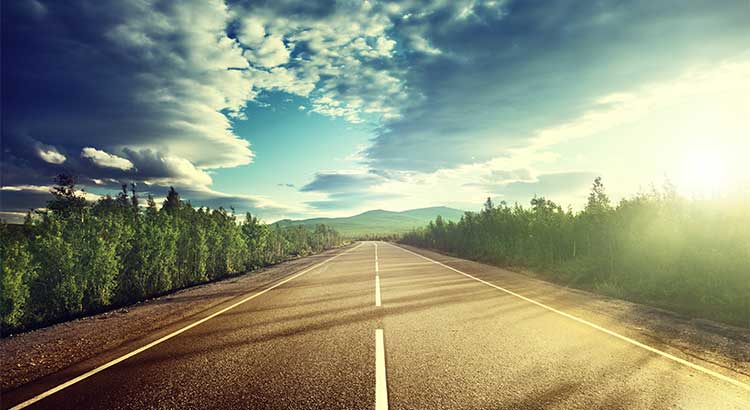 The interest rate you pay on your home mortgage has a direct impact on your monthly payment. The higher the rate the greater the payment will be. That is why it is important to know where rates are headed when deciding to start your home search.
Below is a chart created using Freddie Mac's U.S. Economic & Housing Marketing Outlook. As you can see, interest rates are projected to increase steadily over the course of the next 12 months.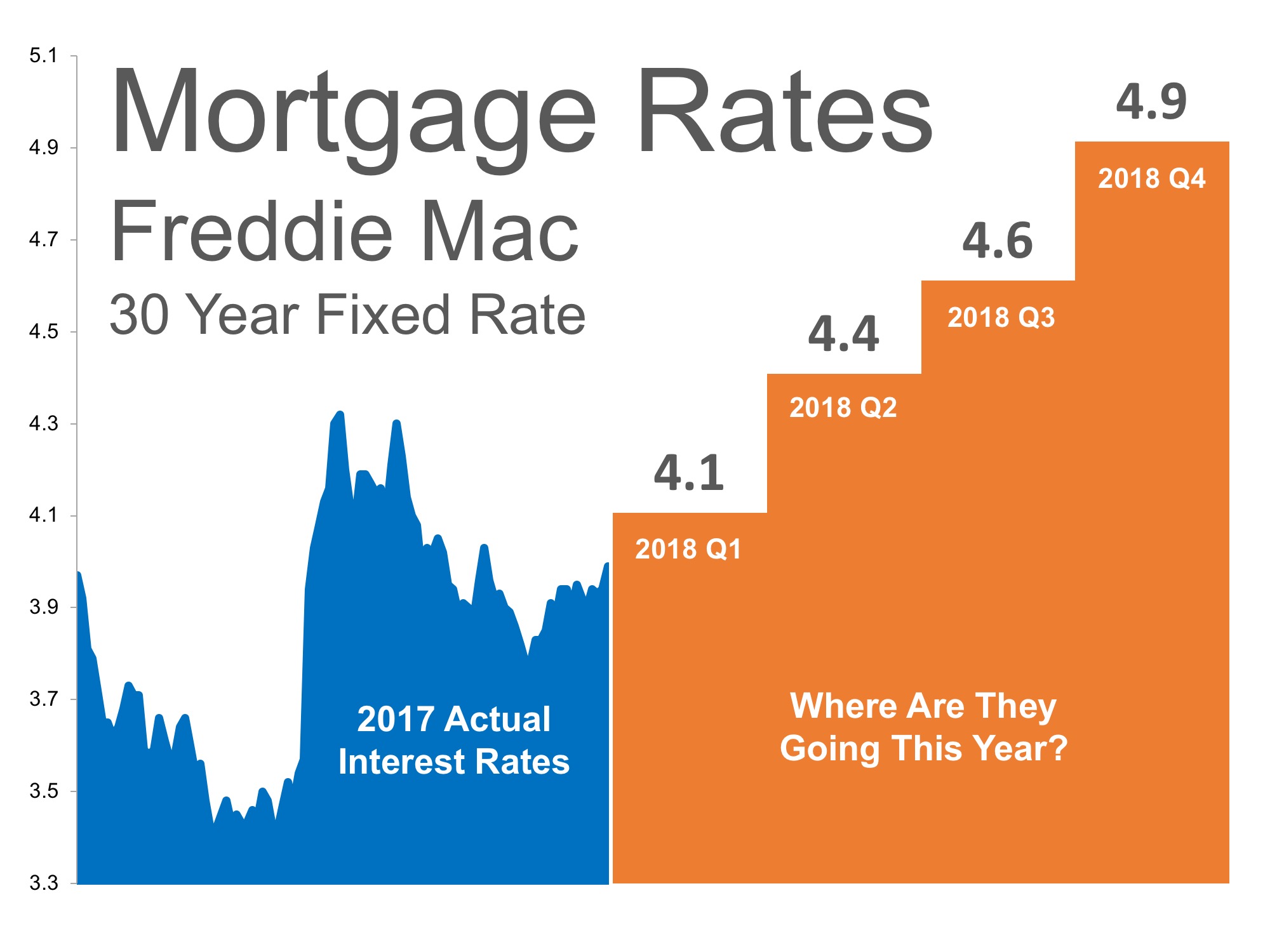 How Will This Impact Your Mortgage Payment?
Depending on the amount of the loan that you secure, a half of a percent (.5%) increase in interest rate can increase your monthly mortgage payment significantly.
According to CoreLogic's latest Home Price Index, national home prices have appreciated 7.0% from this time last year and are predicted to be 4.2% higher next year.
If both the predictions of home price and interest rate increases become reality, families would wind up paying considerably more for their next home.
Bottom Line 
Even a small increase in interest rate can impact your family's wealth. Let's get together to evaluate your ability to purchase your dream home.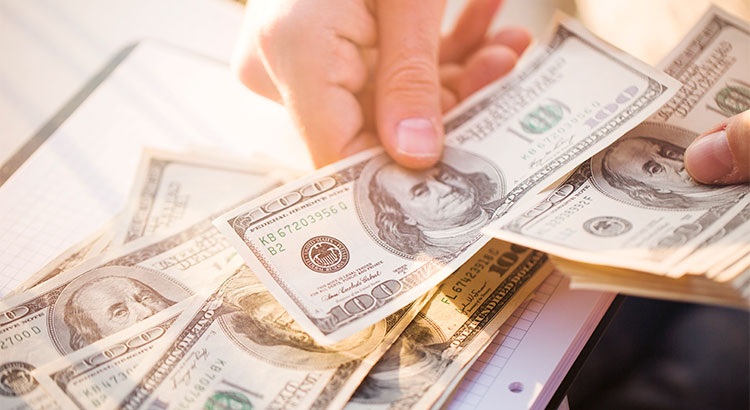 There are some people who have not purchased homes because they are uncomfortable taking on the obligation of a mortgage. Everyone should realize, however, that unless you are living with your parents rent-free, you are paying a mortgage – either yours or your landlord's.
As Entrepreneur Magazine, a premier source for small business, explained in their article, "12 Practical Steps to Getting Rich":
"While renting on a temporary basis isn't terrible, you should most certainly own the roof over your head if you're serious about your finances. It won't make you rich overnight, but by renting, you're paying someone else's mortgage. In effect, you're making someone else rich."
Christina Boyle, Senior Vice President and head of the Single-Family Sales & Relationship Management organization at Freddie Mac, explains another benefit of securing a mortgage as opposed to paying rent:
"With a 30-year fixed rate mortgage, you'll have the certainty & stability of knowing what your mortgage payment will be for the next 30 years – unlike rents which will continue to rise over the next three decades."
As an owner, your mortgage payment is a form of 'forced savings' which allows you to build equity in your home that you can tap into later in life. As a renter, you guarantee the landlord is the person building that equity.
Interest rates are still at historic lows, making it one of the best times to secure a mortgage and make a move into your dream home. Freddie Mac's latest report shows that rates across the country were at 4.22% last week.
Bottom Line
Whether you are looking for a primary residence for the first time or are considering a vacation home on the shore, now may be the time to buy.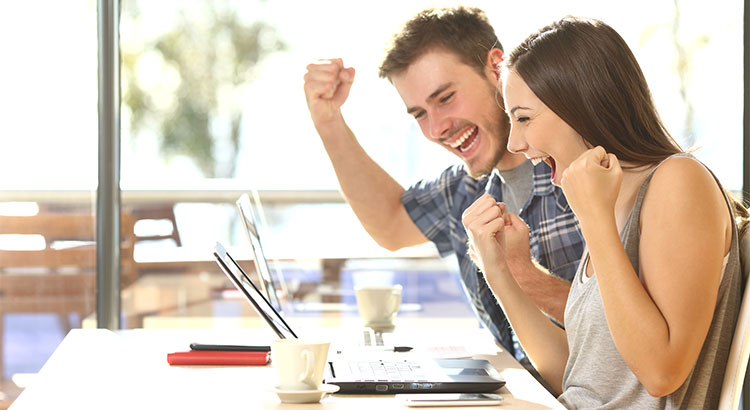 Just like with any product or service, the law of supply and demand impacts home prices. Any time that there is less supply than the market demands, prices increase.
In many areas of the country, the supply of homes for sale in the starter and trade-up home markets is so low that bidding wars have ensued, and the busy spring-buying season is just around the corner.
CoreLogic recently conducted an analysis on national home prices at the time of sale for their January 2018 MarketPulse Report and found that a third of homes sold for at least list price.
"The share selling above list price was almost three times the trough in January 2008 and represented more than one-fifth of total sales."
Many markets in the western part of the country and around major cities are experiencing higher shares of homes selling above list price.
"San Francisco had the largest share of homes—76 percent—that sold for at least the list price, and Seattle and Los Angeles followed with 63 and 51 percent, respectively. Miami had the lowest share—16 percent—of homes selling at or above the list price."
Increased demand during the spring and summer months, the traditionally busier seasons for real estate, will no doubt influence how many homes continue to sell over list price.
This should not be seen by sellers as permission to overprice their homes, though. Buyers are becoming more and more educated, especially those who have been searching for their dream homes for a while now while waiting for new inventory to come to market.
Realtor.com gives this advice:
"Aim to price your property at or just slightly below the going rate. Today's buyers are highly informed, so if they sense they're getting a deal, they're likely to bid up a property that's slightly underpriced, especially in areas with low inventory."
Bottom Line
Without a large wave of new listings coming to market, buyers will continue competing with each other for the homes that are available. If you are thinking of selling your home, now may be the time to do so before more competition comes this spring. Let's get together to determine the demand for your house in our area.

Many people wonder whether they should hire a real estate professional to assist them in buying their dream homes or if they should first try to go through the buying process on their own. In today's market: you need an experienced professional!
You Need an Expert Guide If You Are Traveling a Dangerous Path
The field of real estate is loaded with landmines; you need a true expert to guide you through the dangerous pitfalls that currently exist. Finding a home that is priced appropriately and is ready for you to move into can be tricky. An agent listens to your wants and needs, and can sift through the homes that do not fit within the parameters of your "dream home."
A great agent will also have relationships with mortgage professionals and other experts that you will need in order to secure your dream home. 
You Need a Skilled Negotiator
In today's market, hiring a talented negotiator could save you thousands, perhaps tens of thousands, of dollars. Each step of the way – from the original offer to the possible renegotiation of that offer after a home inspection, to the possible cancellation of the deal based on a troubled appraisal – you need someone who can keep the deal together until it closes.
Realize that when an agent is negotiating his or her commission with you, they are negotiating their own salary; the salary that keeps a roof over their family's head; the salary that puts food on their family's table. If they are quick to take less when negotiating for themselves and their families, what makes you think they will not act the same way when negotiating for you and your family?
If they were Clark Kent when negotiating with you, they will not turn into Superman when negotiating with the buyer or seller in your deal. 
Bottom Line
Famous sayings become famous because they are true. You get what you pay for. Just like a good accountant or a good attorney, a good agent will save you money…not cost you money.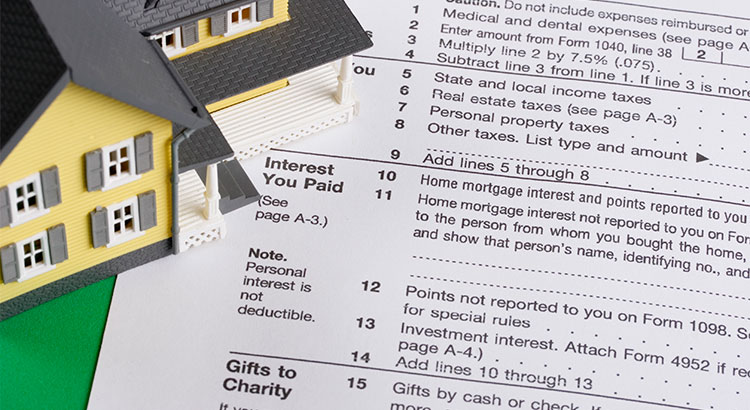 Every month, CoreLogic releases its Home Price Insights Report. In that report, they forecast where they believe residential real estate prices will be in twelve months.
Below is a map, broken down by state, reflecting how home values are forecasted to change by the end of 2018 using data from the most recent report.
As we can see, CoreLogic projects an increase in home values in 49 of 50 states, and Washington, DC (there was insufficient data for HI). Nationwide, they see home prices increasing by 4.2%.
How might the new tax code impact these numbers?
Recently, the National Association of Realtors (NAR) conducted their own analysis to determine the impact the new tax code may have on home values. NAR's analysis:
"…estimated how home prices will change in the upcoming year for each state, considering the impact of the new tax law and the momentum of jobs and housing inventory."
Here is a map based on NAR's analysis: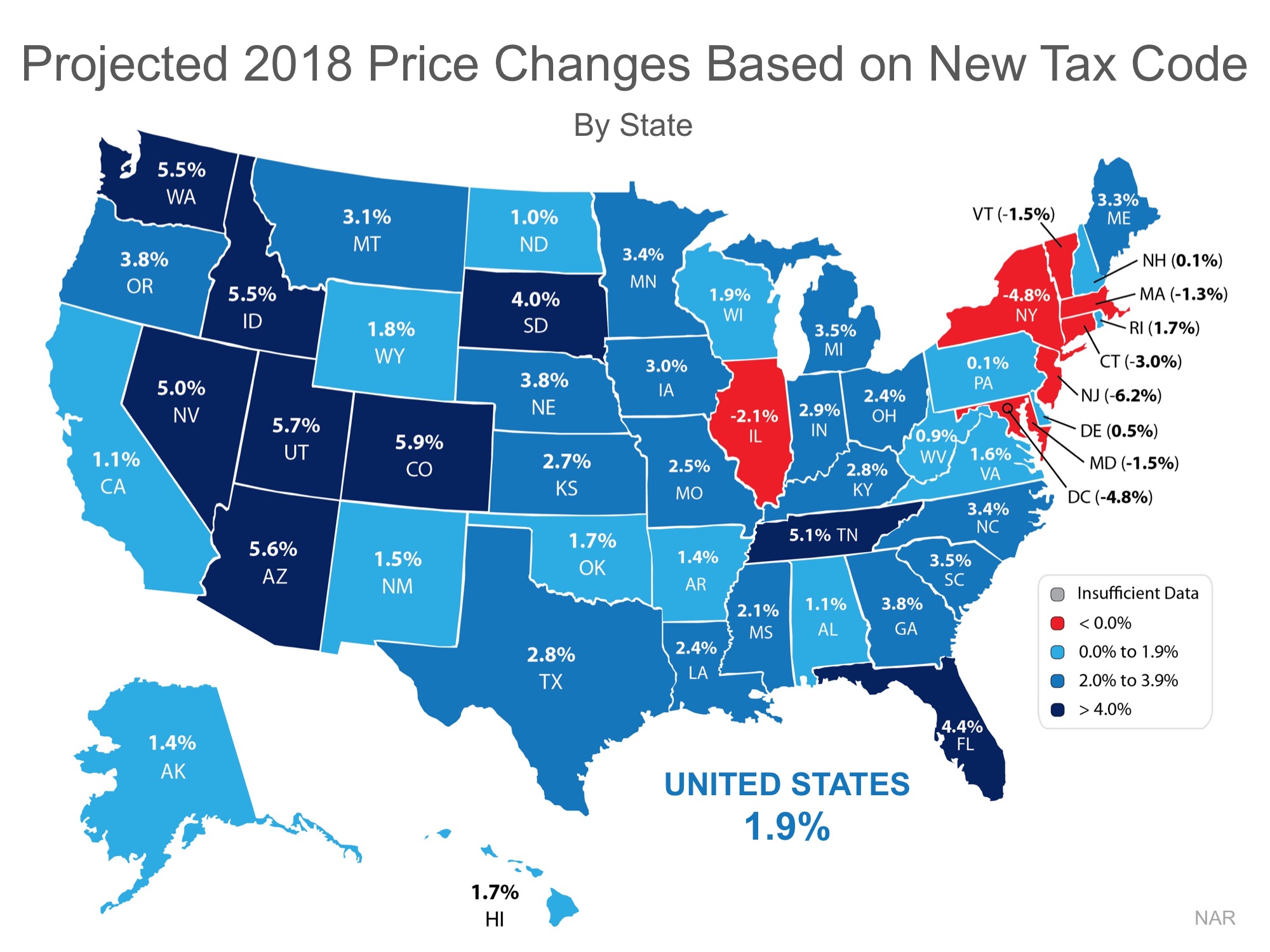 Bottom Line
According to NAR, the new tax code will have an impact on home values across the country. However, the effect will be much less significant than what some originally thought.
According to Ellie Mae's latest Origination Report, the average FICO® Score on all closed loans dropped to 722 which is its lowest mark since April. The average includes all approved refinance and purchase loans.
FHA and VA loans showed the most opportunity for millennials looking to enter the market with low down payments and even lower FICO® Score requirements.
Ellie Mae's Millennial Tracker revealed that those who purchased homes in December with an FHA Loan were able to do so with an average down payment of 4% and a FICO® Score of only 684.
Joe Tyrell, EVP of Corporate Strategy at Ellie Mae commented on the opportunity this brings to buyers,
"With the average credit score dipping, lenders are extending credit to borrowers who may have had no previous access to the housing market."
Bottom Line
More and more potential buyers are able to qualify for a mortgage loan now! If you are debating a home purchase, let's get together and evaluate your ability to buy today!
It is common knowledge that a great number of homes sell during the spring-buying season. For that reason, many homeowners hold off on putting their homes on the market until then. The question is whether or not that will be a good strategy this year.
The other listings that do come out in the spring will represent increased competition to any seller. Do a greater number of homes actually come to the market in the spring as compared to the rest of the year? The National Association of Realtors (NAR) recently revealed the months in which most people listed their homes for sale in 2017. Here is a graphic showing the results:
The three months in the second quarter of the year (represented in red) are consistently the most popular months for sellers to list their homes on the market. Last year, the number of homes available for sale in January was 1,680,000.
That number spiked to 1,970,000 by May!
What does this mean to you?
With the national job situation improving, and mortgage interest rates projected to rise later in the year, buyers are not waiting until the spring; they are out looking for homes right now. If you are looking to sell this year, waiting until the spring to list your home means you will have the greatest competition amongst buyers.
Bottom Line
It may make sense to beat the rush of housing inventory that will enter the market in the spring and list your home today.
Some Highlights:
The National Association of Realtors surveyed their members & released the findings of their Annual Profile of Home Staging.
50% of staged homes saw a 1-10% increase in dollar value offers from buyers.
77% of buyer's agents said staging made it easier for buyers to visualize the home as their own.
The top rooms to stage in order to attract more buyers are the living room, master bedroom, kitchen, and dining room.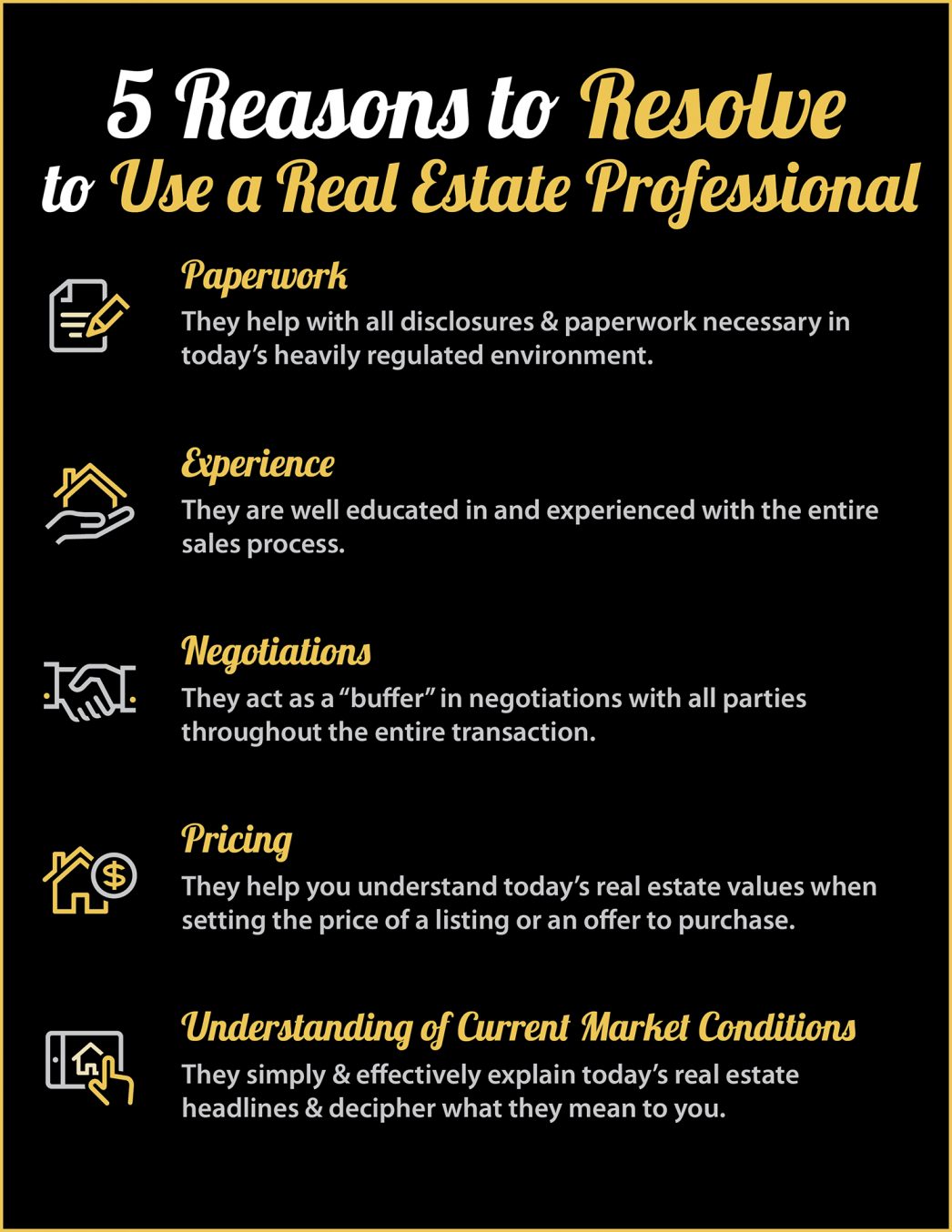 Some Highlights:
As we usher in the new year, one thing is for certain… if you plan to buy or sell a house this year, you need a real estate professional on your team!
There are many benefits to using a local professional!
Pick a professional who knows your local market and can help you achieve your dreams!