Buyer Tips Category
Every year at this time, many homeowners decide to wait until after the holidays to put their homes on the market for the first time, while others who already have their homes on the market decide to take them off until after the holidays.
Here are seven great reasons not to wait:
Relocation buyers are out there. Many companies are still hiring throughout the holidays and need their employees in their new positions as soon as possible.
Purchasers who are looking for homes during the holidays are serious buyers and are ready to buy now.
You can restrict the showings on your home to the times you want it shown. You will remain in control.
Homes show better when decorated for the holidays.
There is less competition for you as a seller right now. Let's take a look at listing inventory as compared to the same time last year: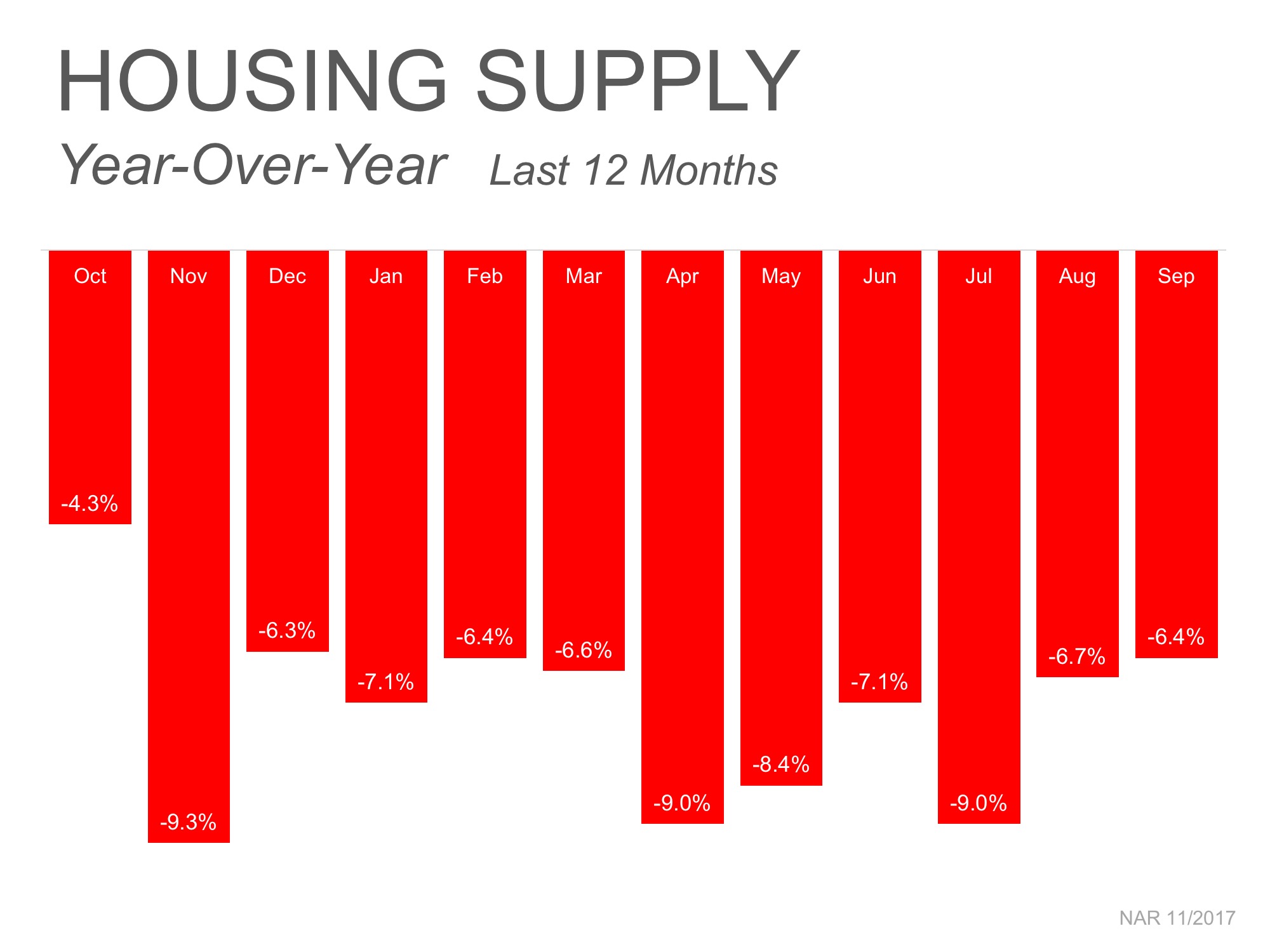 The desire to own a home doesn't stop when the holidays come. Buyers who were unable to find their dream home during the busy spring and summer months are still searching!
The supply of listings increases substantially after the holidays. Also, in many parts of the country, new construction will continue to surge reaching new heights in 2018, which will lessen the demand for your house.
Bottom Line
Waiting until after the holidays to sell your home probably doesn't make sense.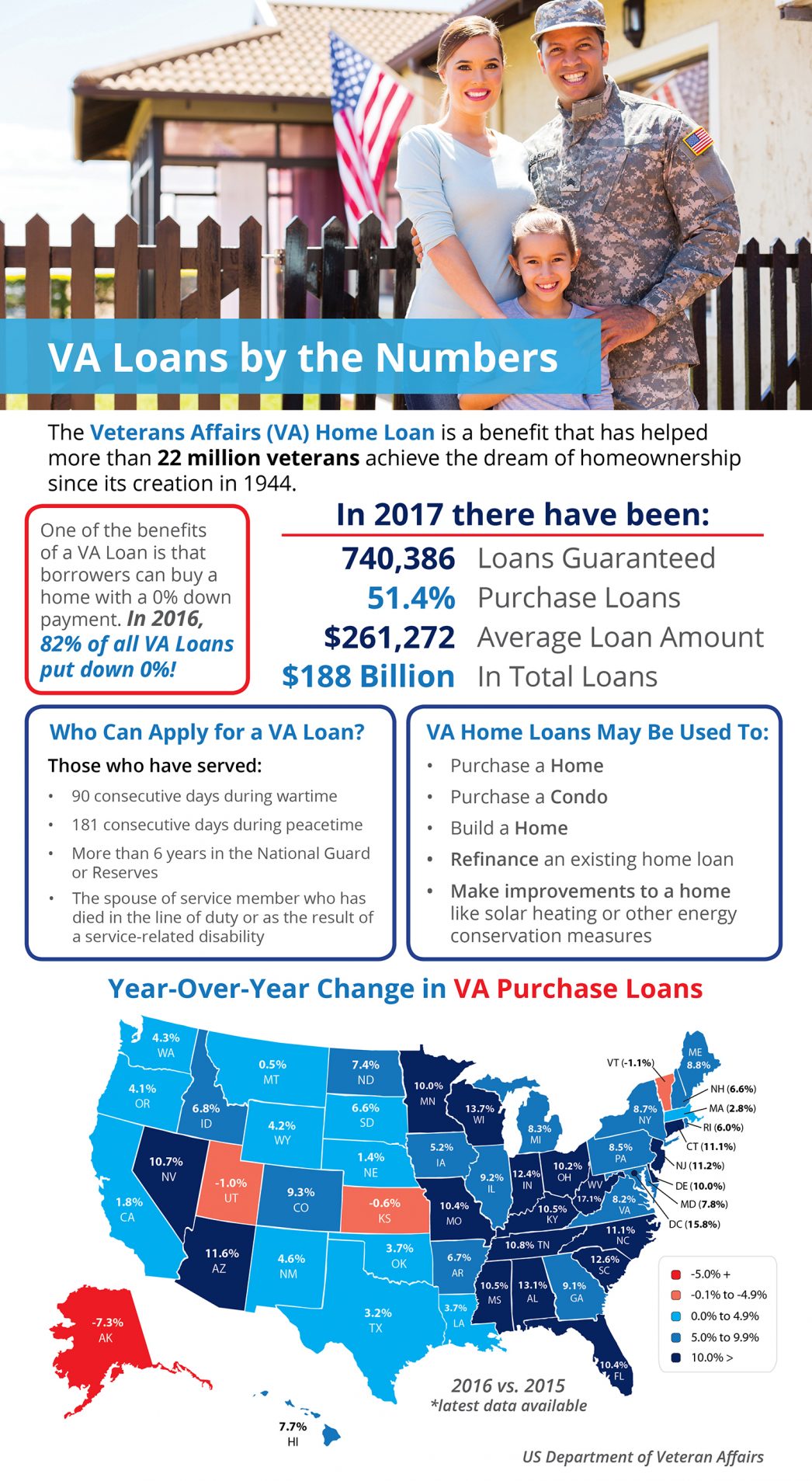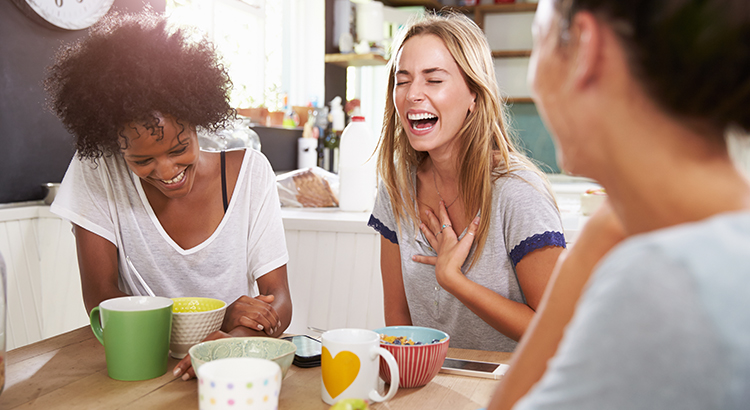 In Trulia's recent report, Rent vs. Buy: Roommate Edition, they examined the impact that renting with a roommate has in determining whether it is more expensive to rent or buy. The study explains:
"Since we started keeping track in 2012, it's been a better deal to buy than rent in America's largest housing markets – and for much of that time it hasn't been close."
It then goes on to ask the question:
"But does the equation change for renters who share their rent with a roommate?"
The report reveals:
"While the standard rent vs. buy analysis reveals buying is cheaper than renting in all of the nation's 100 largest metros, this doesn't hold true for those choosing between renting with a roommate and buying a starter home."
It seems obvious that sharing the cost of renting your living space by taking in a roommate dramatically decreases your housing expense (which is exactly what the report concluded), but it got us thinking.
What if you purchased a home and took in that same roommate?
The savings you would gain by adding a roommate would also occur if you purchased a home. This presents an opportunity for a list of possible purchasers. Here are two examples:
The first-time buyer: As the report explains, many young adults already live with a roommate. If they purchased a new home, perhaps that roommate (or someone else) would be willing to rent a room in their new house. The rent could help offset the mortgage payment.
The empty-nester seller looking to move: Their home may no longer fit their current lifestyle. They may now be looking for something a little smaller with all the bedrooms on the ground level. These families may be able to open a bedroom to an older family member (parents, aunts & uncles, etc.). This would kill two birds with one stone.
A smaller, move-down home is almost impossible to find in the current housing market. If the seller-turned-buyer takes on a tenant, they could buy a more expensive home knowing that the additional monies needed to pay the mortgage would be offset with the additional monies they receive in rent. Secondly, the older couple (ex. parents) could get a housing option that probably far surpasses anything else available to them in the current market.
Bottom Line
Considering the concept of renting a portion of your house to be able to purchase the perfect home may make sense to many families. You will need to decide if it is right for you.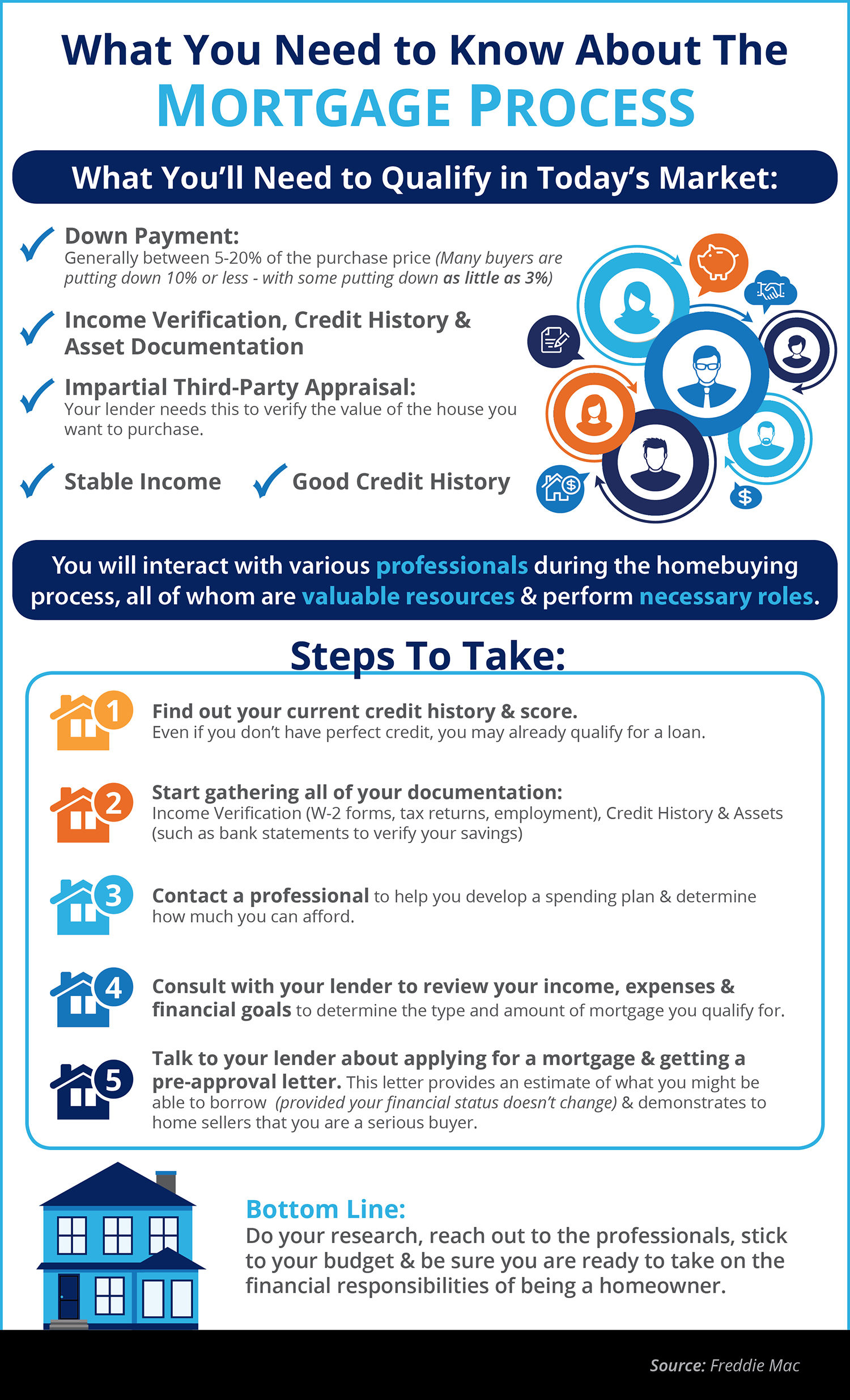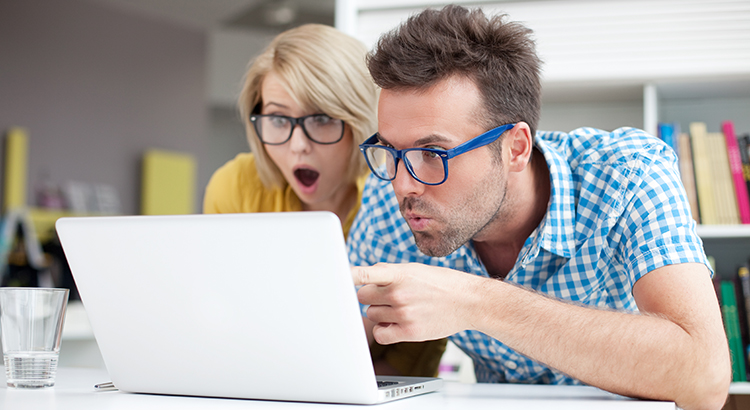 According to a survey conducted by ClosingCorp, over half of all homebuyers are surprised by the closing costs required to obtain their mortgage.
After surveying 1,000 first-time and repeat homebuyers, the results revealed that 17% of homebuyers were surprised that closing costs were required at all, while another 35% were stunned by how much higher the fees were than expected.
"Homebuyers reported being most surprised by mortgage insurance, followed by bank fees and points, taxes, title insurance and appraisal fees."
Bankrate.com gathered closing cost data from lenders in every state and Washington, D.C. in order to share the average costs in each state. The map below was created using the closing costs on a $200,000 mortgage with a 20% down payment.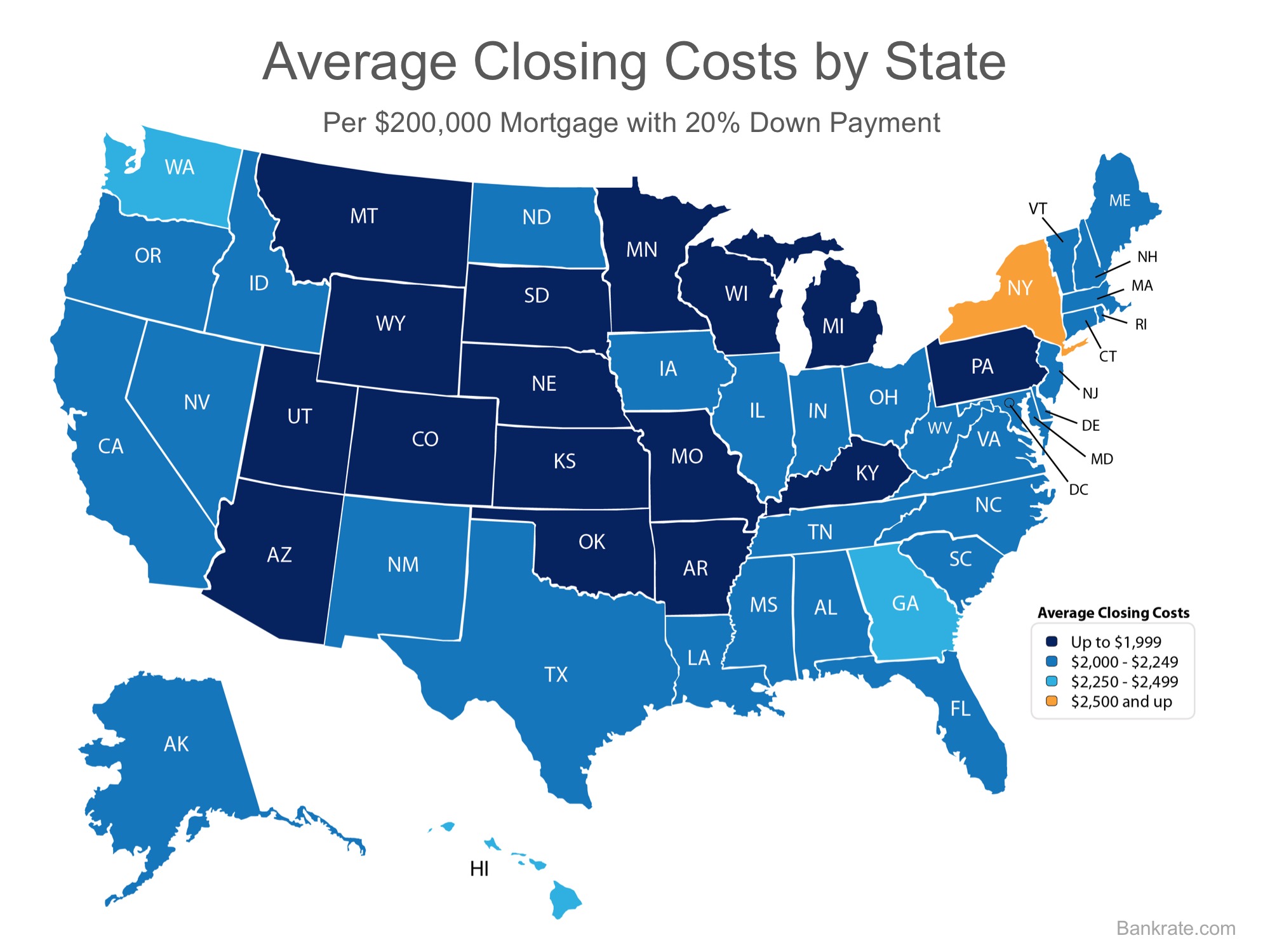 Keep in mind that if you are in the market for a home above this price range, your costs could be significantly greater. According to Freddie Mac,
"Closing costs are typically between 2 and 5% of your purchase price."
Bottom Line
Speak with your lender and agent early and often to determine how much you'll be responsible for at closing. Finding out that you'll need to come up with thousands of dollars right before closing is not a surprise anyone is ever looking forward to.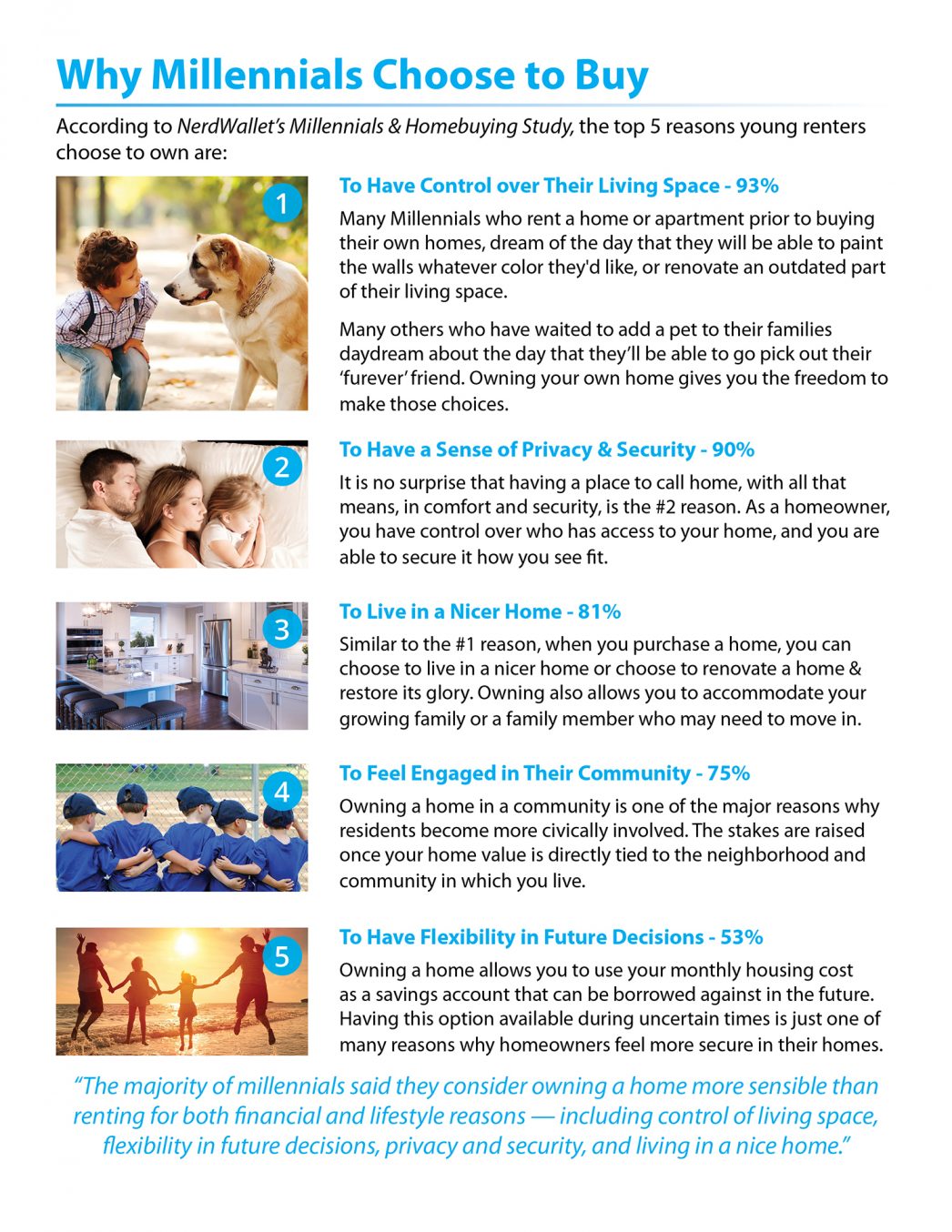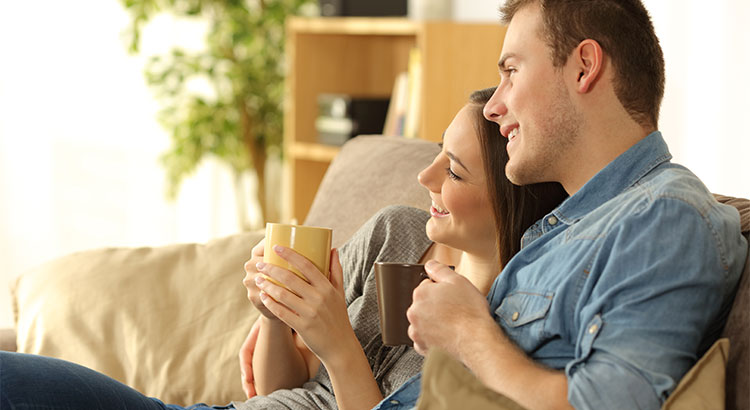 In this day and age of being able to shop for anything anywhere, it is really important to know what you're looking for when you start your home search.
If you've been thinking about buying a home of your own for some time now, you've probably come up with a list of things that you'd LOVE to have in your new home. Many new homebuyers fantasize about the amenities that they see on television or Pinterest, and start looking at the countless homes listed for sale through rose-colored glasses.
Do you really need that farmhouse sink in the kitchen to be happy with your home choice? Would a two-car garage be a convenience or a necessity? Could the 'man cave' of your dreams be a future renovation project instead of a make-or-break right now?
The first step in your home buying process should be getting pre-approved for your mortgage. This allows you to know your budget before you fall in love with a home that is way outside of it.
The next step is to list all the features of a home that you would like, and to qualify them as follows:
'Must-Haves' – if this property does not have these items, then it shouldn't even be considered (ex: distance from work or family, number of bedrooms/bathrooms).
'Should-Haves' – if the property hits all of the 'must-haves' and some of the 'should-haves,' it stays in contention but does not need to have all of these features.
'Absolute-Wish List' – if we find a property in our budget that has all of the 'must-haves,' most of the 'should-haves,' and ANY of these, it's the winner!
Bottom Line
Having this list fleshed out before starting your search will save you time and frustration, while also letting your agent know what features are most important to you before starting to show you houses in your desired area.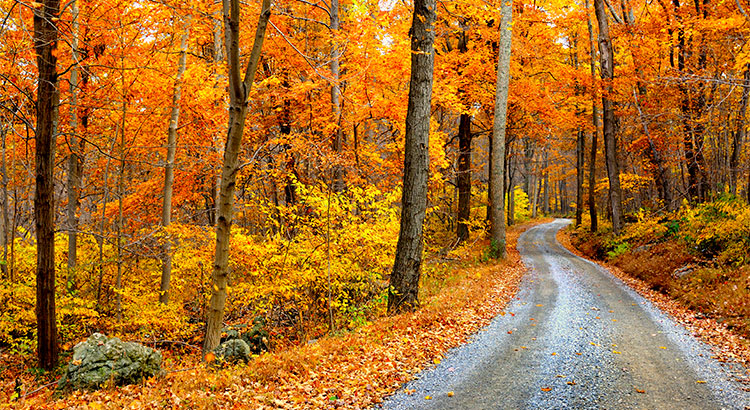 Here are four great reasons to consider buying a home today, instead of waiting.
1. Prices Will Continue to Rise
CoreLogic's latest Home Price Index reports that home prices have appreciated by 6.7% over the last 12 months. The same report predicts that prices will continue to increase at a rate of 5.0% over the next year.
The bottom in home prices has come and gone. Home values will continue to appreciate for years. Waiting no longer makes sense.
2. Mortgage Interest Rates Are Projected to Increase
Freddie Mac's Primary Mortgage Market Survey shows that interest rates for a 30-year mortgage have hovered around 4%. Most experts predict that rates will rise over the next 12 months. The Mortgage Bankers Association, Fannie Mae, Freddie Mac and the National Association of Realtors are in unison, projecting that rates will increase by this time next year.
An increase in rates will impact YOUR monthly mortgage payment. A year from now, your housing expense will increase if a mortgage is necessary to buy your next home.
3. Either Way, You Are Paying a Mortgage 
There are some renters who have not yet purchased a home because they are uncomfortable taking on the obligation of a mortgage. Everyone should realize that, unless you are living with your parents rent-free, you are paying a mortgage – either yours or your landlord's.
As an owner, your mortgage payment is a form of 'forced savings' that allows you to have equity in your home that you can tap into later in life. As a renter, you guarantee your landlord is the person with that equity.
Are you ready to put your housing cost to work for you?
4. It's Time to Move on With Your Life
The 'cost' of a home is determined by two major components: the price of the home and the current mortgage rate. It appears that both are on the rise.
But what if they weren't? Would you wait?
Look at the actual reason you are buying and decide if it is worth waiting. Whether you want to have a great place for your children to grow up, you want your family to be safer or you just want to have control over renovations, maybe now is the time to buy.
If purchasing a home for you and your family is the right thing for you to do this year, buying sooner rather than later could lead to substantial savings.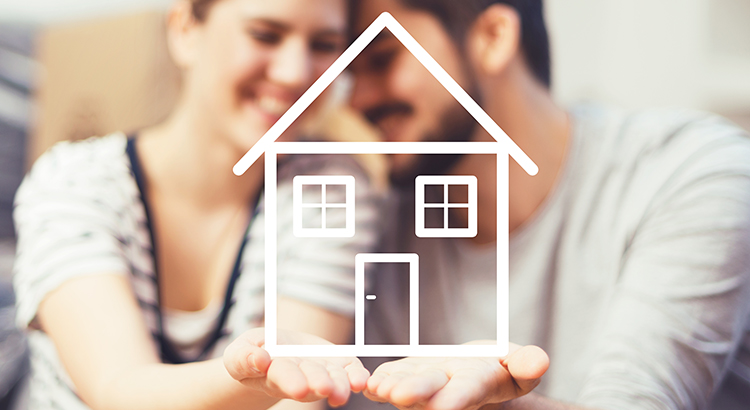 The results of countless studies have shown that potential home buyers, and even current homeowners, have an inflated view of what is really required to qualify for a mortgage in today's market.
One such study by the Wharton School of Business at the University of Pennsylvania revealed that many millennials have not yet considered purchasing homes simply because they don't believe they can qualify for a mortgage.
A recent article about millennials by Realtor.com explained that:
"About 72% of aspiring millennial buyers said they're waiting because they can't afford to buy…"
The article also explained that 29% of millennials believe their credit scores are too low to buy.The problem here is the fact that they think they will be denied a mortgage is keeping them from evenattempting to apply.
Ellie Mae's Vice President Jonas Moe encouraged buyers to know their options before assuming that they won't qualify for a mortgage:
"Many potential home buyers are 'disqualifying' themselves. You don't need a 750 FICO® Score and a 20% down payment to buy."
So, what credit score is necessary?
Below is a breakdown of the FICO® Score distribution of all closed (approved) loans in July from Ellie Mae's latest Origination Report.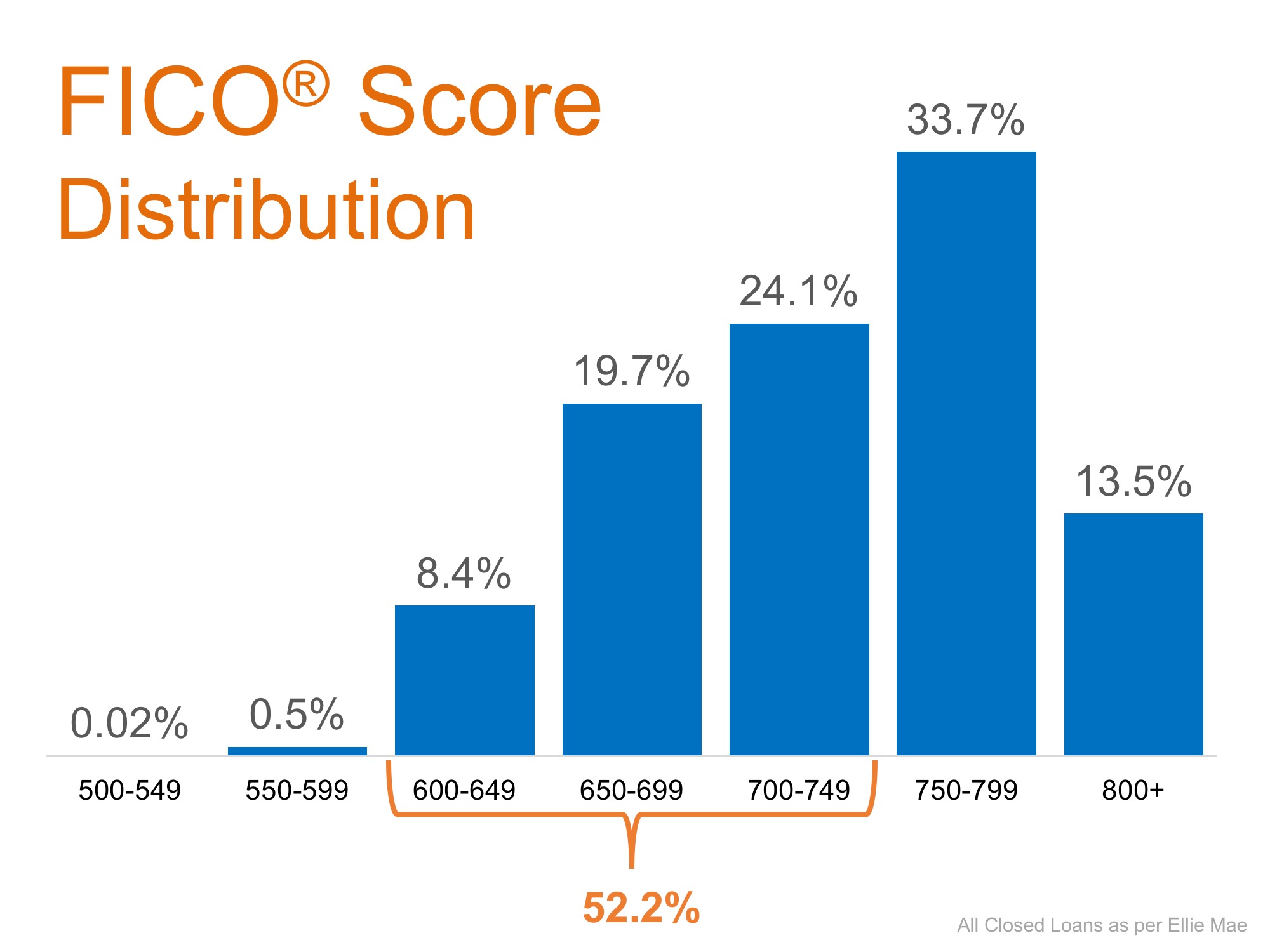 Over 52% of all approved loans had a FICO® Score under 750. Many potential home buyers believe that they need a score over 780 to qualify.
Bottom Line
If owning a home of your own has always been your dream and you are ready and willing to buy, or if you are a homeowner who wants to move up, find out if you are able to! Let's get together to determine if your dreams can become a reality sooner than you thought!