Market Trends Category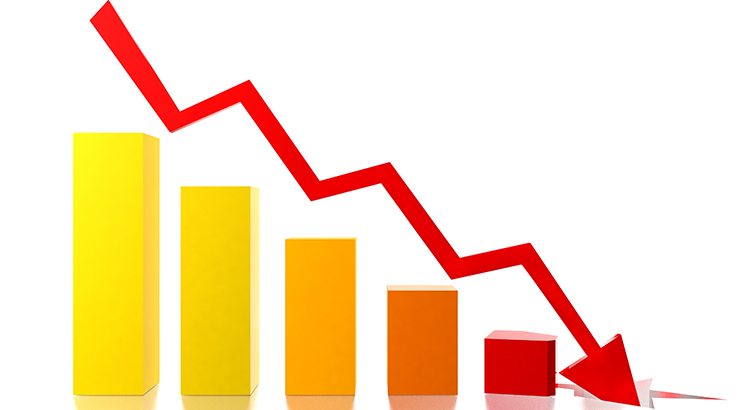 Every summer, families across the country decide if this will be the year they sell their current house and move into their dream home.
Mortgage rates have hovered around 4% for all of 2017, forcing buyers off the fence and into the market, resulting in incredibly strong demand RIGHT NOW!! At the same time, inventory levels of homes for sale have dropped dramatically as compared to this time last year.
Trulia reported that "U.S. home inventory has tumbled 8.9% over the past year and has now fallen for nine consecutive quarters." There is now 20% less inventory than there was five years ago.
Here is a chart showing the decrease in inventory levels by category: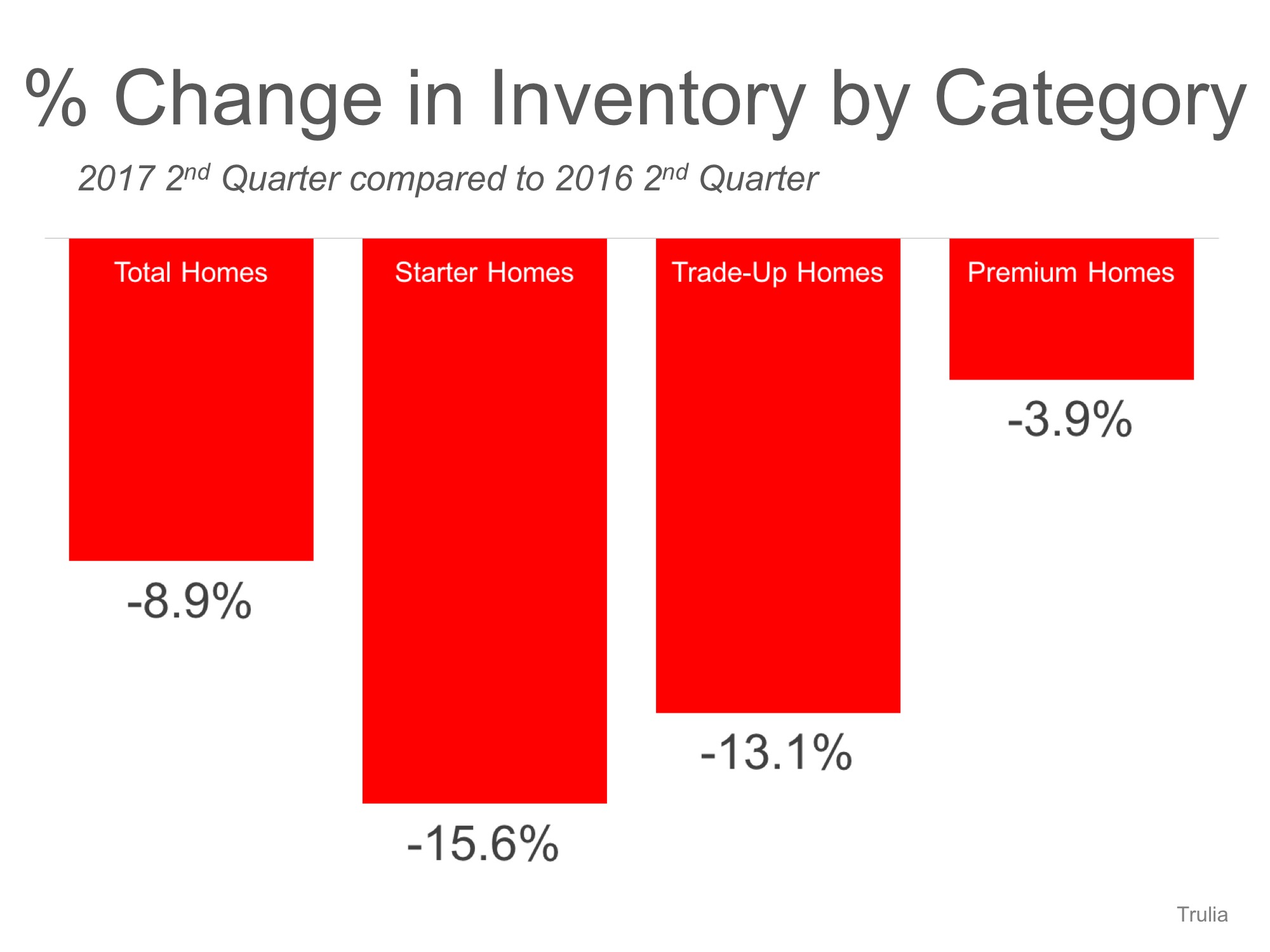 Bottom Line
Demand for your home is very strong right now while your competition (other homes for sale) is at a historically low level. If you are thinking of selling in 2017, now may be the perfect time.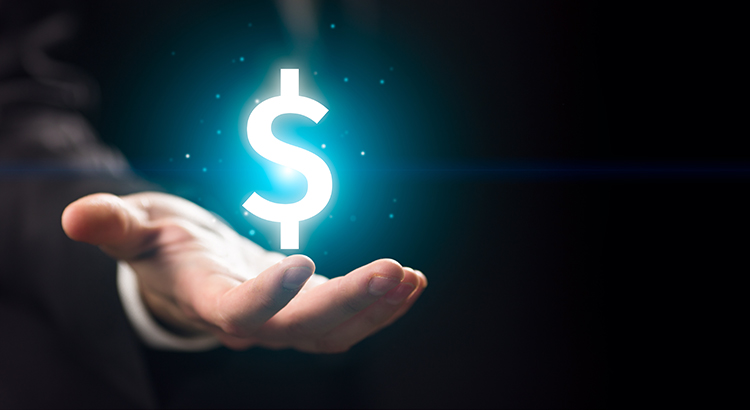 According to Freddie Mac's latest Primary Mortgage Market Survey, interest rates for a 30-year fixed rate mortgage are currently at 3.96%, which is still near record lows in comparison to recent history!
The interest rate you secure when buying a home not only greatly impacts your monthly housing costs, but also impacts your purchasing power.
Purchasing power, simply put, is the amount of home you can afford to buy for the budget you have available to spend. As rates increase, the price of the house you can afford will decrease if you plan to stay within a certain monthly housing budget.
The chart below shows what impact rising interest rates would have if you planned to purchase a home within the national median price range, and planned to keep your principal and interest payments between $1,850-$1,900 a month.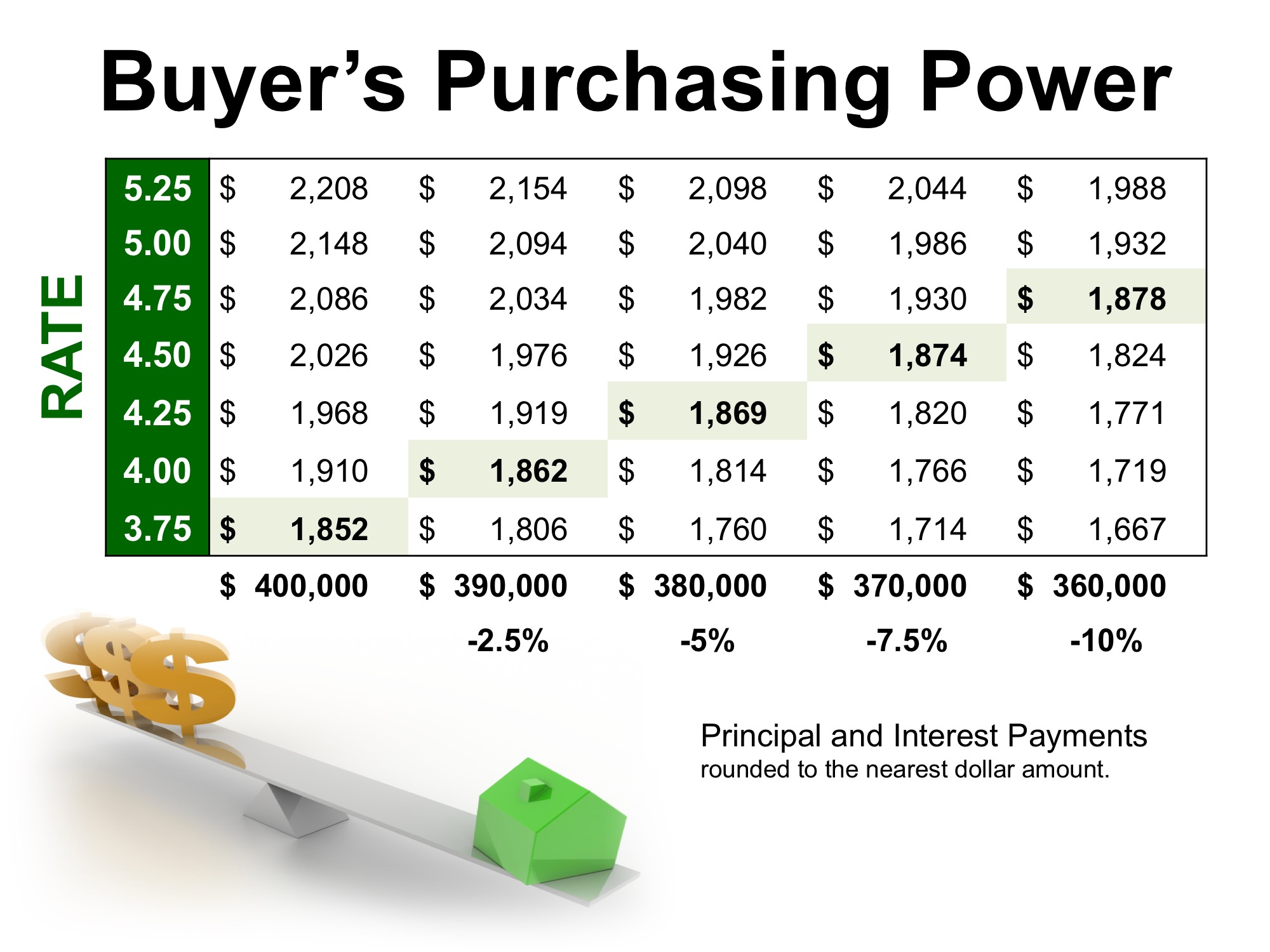 With each quarter of a percent increase in interest rate, the value of the home you can afford decreases by 2.5% (in this example, $10,000). Experts predict that mortgage rates will be closer to 5% by this time next year.
Act now to get the most house for your hard-earned money.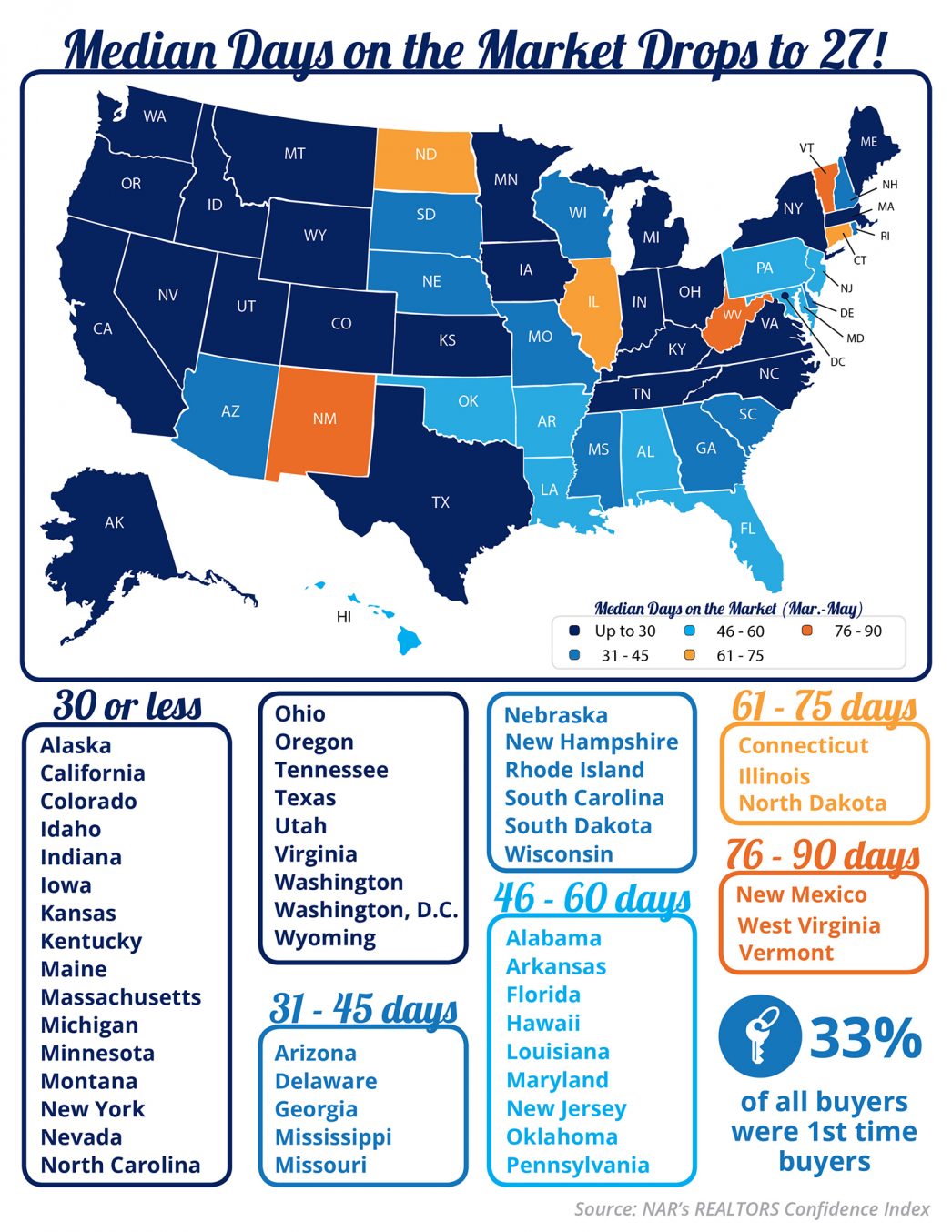 Some Highlights:
The National Association of REALTORS® surveyed their members for their monthly Confidence Index.
The REALTORS® Confidence Index is a key indicator of housing market strength based on a monthly survey sent to over 50,000 real estate practitioners. Practitioners are asked about their expectations for home sales, prices and market conditions.
Homes sold in less than a month in 24 out of 50 states, and Washington D.C.
Homes typically went under contract in 27 days in May!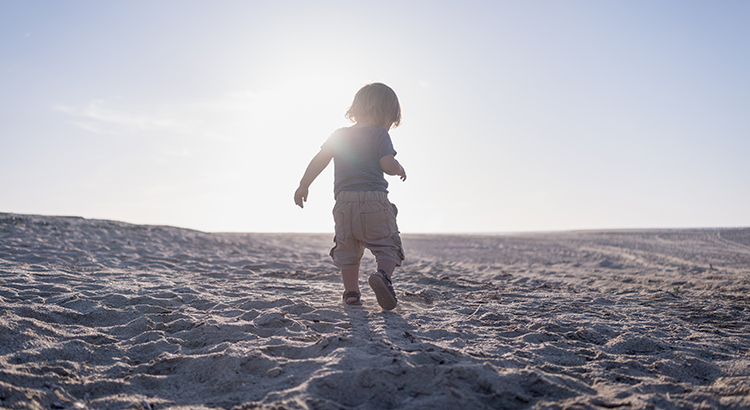 In many markets across the country, the number of buyers searching for their dream homes greatly outnumbers the amount of homes for sale. This has led to a competitive marketplace where buyers often need to stand out. One way to show you are serious about buying your dream home is to get pre-qualified or pre-approved for a mortgage before starting your search.
Even if you are in a market that is not as competitive, knowing your budget will give you the confidence of knowing if your dream home is within your reach.
Freddie Mac lays out the advantages of pre-approval in the My Home section of their website:
"It's highly recommended that you work with your lender to get pre-approved before you begin house hunting. Pre-approval will tell you how much home you can afford and can help you move faster, and with greater confidence, in competitive markets."
One of the many advantages of working with a local real estate professional is that many have relationships with lenders who will be able to help you with this process. Once you have selected a lender, you will need to fill out their loan application and provide them with important information regarding "your credit, debt, work history, down payment and residential history." 
Freddie Mac describes the 4 Cs that help determine the amount you will be qualified to borrow:
Capacity: Your current and future ability to make your payments
Capital or cash reserves: The money, savings, and investments you have that can be sold quickly for cash
Collateral: The home, or type of home, that you would like to purchase
Credit: Your history of paying bills and other debts on time
Getting pre-approved is one of many steps that will show home sellers that you are serious about buying, and it often helps speed up the process once your offer has been accepted.
Bottom Line
Many potential home buyers overestimate the down payment and credit scores needed to qualify for a mortgage today. If you are ready and willing to buy, you may be pleasantly surprised at your ability to do so as well.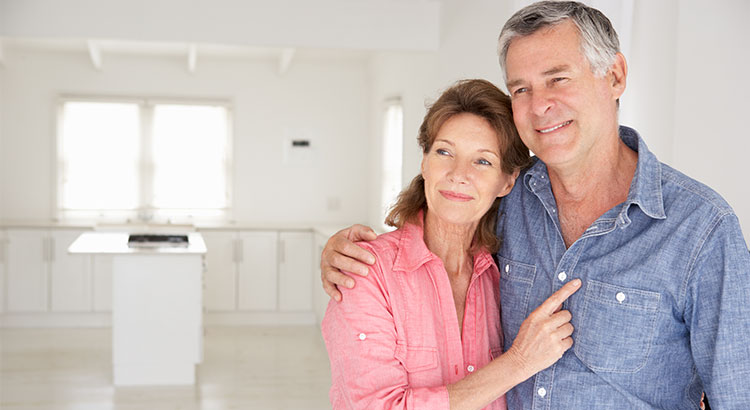 Here are four great reasons to consider buying a home today, instead of waiting.
1. Prices Will Continue to Rise
CoreLogic's latest Home Price Index reports that home prices have appreciated by 7.1% over the last 12 months. The same report predicts that prices will continue to increase at a rate of 4.9% over the next year.
The bottom in home prices has come and gone. Home values will continue to appreciate for years. Waiting no longer makes sense.
2. Mortgage Interest Rates Are Projected to Increase
Freddie Mac's Primary Mortgage Market Survey shows that interest rates for a 30-year mortgage have remained around 4%. Most experts predict that they will begin to rise over the next 12 months. The Mortgage Bankers Association, Fannie Mae, Freddie Mac & the National Association of Realtors are in unison, projecting that rates will increase by this time next year.
An increase in rates will impact YOUR monthly mortgage payment. A year from now, your housing expense will increase if a mortgage is necessary to buy your next home.
3. Either Way, You are Paying a Mortgage
There are some renters who have not yet purchased a home because they are uncomfortable taking on the obligation of a mortgage. Everyone should realize that, unless you are living with your parents rent-free, you are paying a mortgage – either yours or your landlord's.
As an owner, your mortgage payment is a form of 'forced savings' that allows you to have equity in your home that you can tap into later in life. As a renter, you guarantee your landlord is the person with that equity.
Are you ready to put your housing cost to work for you? 
4. It's Time to Move on with Your Life
The 'cost' of a home is determined by two major components: the price of the home and the current mortgage rate. It appears that both are on the rise.
But what if they weren't? Would you wait?
Look at the actual reason you are buying and decide if it is worth waiting. Whether you want to have a great place for your children to grow up, you want your family to be safer or you just want to have control over renovations, maybe now is the time to buy.
If the right thing for you and your family is to purchase a home this year, buying sooner rather than later could lead to substantial savings.
To start the year, housing experts all agreed on one thing: 2017 was going to be the year we would see mortgage interest rates begin to rise. After years of historically low rates, and an improving economy, the question wasn't if they would increase but instead how much they would increase. Some thought we could see rates hit 5-5.5% by the end of the year.
However, the exact opposite has happened. Instead of higher rates as we head into the middle of 2017, we now have the lowest rates of the year (as reported by Freddie Mac). Here is a graph of mortgage rate movement since the beginning of the year: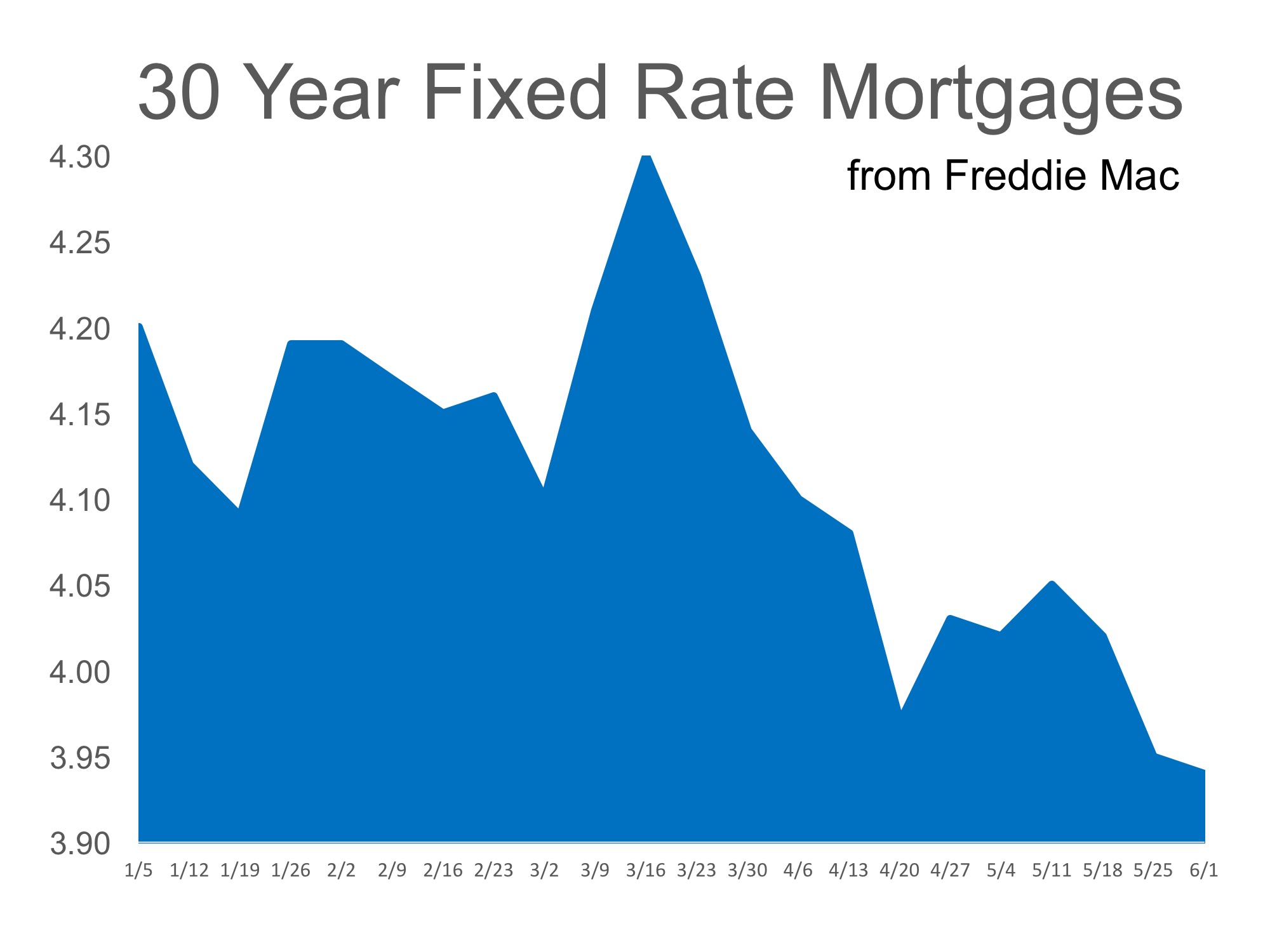 Projections still call for an increase…
Four major entities (Freddie Mac, Fannie Mae, the Mortgage Bankers Association and the National Association of Realtors) are still projecting that rates will increase by the fourth quarter of the year.

Bottom Line
No one knows for sure where interest rates will be in six months. However, if you are thinking about buying your first house or trading up to the home of your dreams, you can still get a mortgage at historically low rates RIGHT NOW.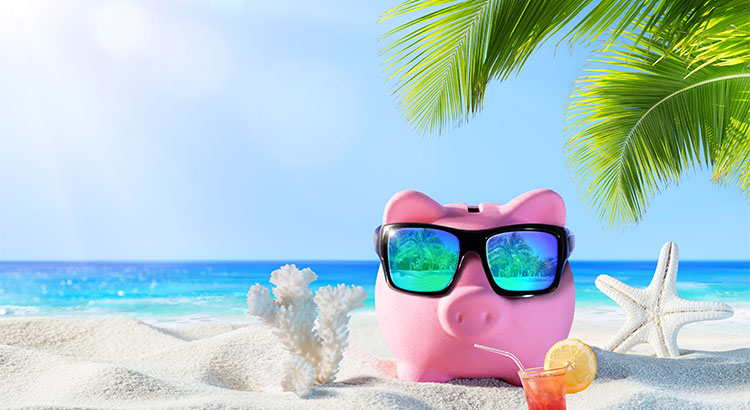 Here are five reasons listing your home for sale this summer makes sense.
1. Demand Is Strong
The latest Buyer Traffic Report from the National Association of Realtors (NAR) shows that buyer demand remains very strong throughout the vast majority of the country. These buyers are ready, willing and able to purchase… and are in the market right now! More often than not, multiple buyers are competing with each other to buy a home.
Take advantage of the buyer activity currently in the market.
2. There Is Less Competition Now
Housing inventory is currently at a 4.2-month supply, well under the 6-months needed for a normal housing market. This means, in the majority of the country, there are not enough homes for sale to satisfy the number of buyers in that market. This is good news for home prices. However, additional inventory could be coming to the market soon.
There is a pent-up desire for many homeowners to move, as they were unable to sell over the last few years because of a negative equity situation. Homeowners are now seeing a return to positive equity as real estate values have increased over the last two years. Many of these homes will be coming to the market this summer.
Also, builder's confidence in the market has hit its highest mark in over 11 years. Experts are predicting that new construction of single-family homes will ramp up this summer.
The choices buyers have will continue to increase. Don't wait until all this other inventory of homes comes to market before you sell.
3. The Process Will Be Quicker
Fannie Mae anticipates an acceleration in home sales that will surpass 2007's pace. As the market continues to strengthen, banks will be inundated with loan inquiries causing closing-time lines to lengthen. Selling now will make the process quicker & simpler. According to Ellie Mae's latestOrigination Insights Report, the time to close a loan has dropped to a new low of 42 days, after seeing a 12-month high of 48 days in January.
4. There Will Never Be a Better Time to Move Up
If you are moving up to a larger, more expensive home, consider doing it now. Prices are projected to appreciate by 4.9% over the next year, according to CoreLogic. If you are moving to a higher-priced home, it will wind up costing you more in raw dollars (both in down payment and mortgage payment) if you wait.
You can also lock in your 30-year housing expense with an interest rate around 4% right now. Rates are projected to increase in the next 12 months.
5. It's Time to Move on with Your Life
Look at the reason you decided to sell in the first place and determine whether it is worth waiting. Is money more important than being with family? Is money more important than your health? Is money more important than having the freedom to go on with your life the way you think you should?
Only you know the answers to the questions above. You have the power to take control of the situation by putting your home on the market. Perhaps the time has come for you and your family to move on and start living the life you desire.
That is what is truly important.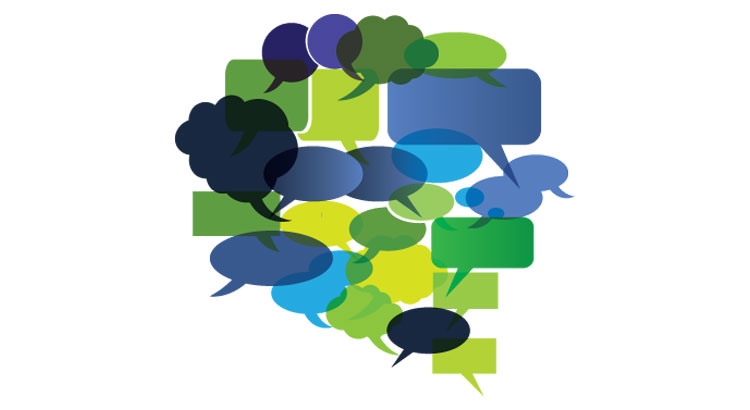 As we head into summer, it is a great time to review how the 2017 real estate market is doing so far. Here is what the experts are saying:
"Positive demographic factors should continue to reshape the housing market, as rising employment and incomes appear to be positively influencing millennial homeownership rates."
"Even as more homes come on the market for this traditionally popular sales season, they're flying off fast, with bidding wars par for the course. Home prices have now surpassed their last peak, and at the entry level, where demand is highest, sellers are firmly in the driver's seat."
"I am guessing we will see it get even better… If you are considering moving, it could be a really good time to sell."
"The early returns so far this spring buying season look very promising as a rising number of households dipped their toes into the market and were successfully able to close on a home last month. Although finding available properties to buy continues to be a strenuous task for many buyers, there was enough of a monthly increase in listings…for sales to muster a strong gain. Sales will go up as long as inventory does."
"Despite higher mortgage rates, the potential for home sales increased on an annual basis driven by steady income and job growth, along with a surge in building permits. While it may be a little late for this spring, the increase in building permits is a welcome sign that some relief may be in sight for the inventory shortages that are holding back many markets from realizing their full potential this spring."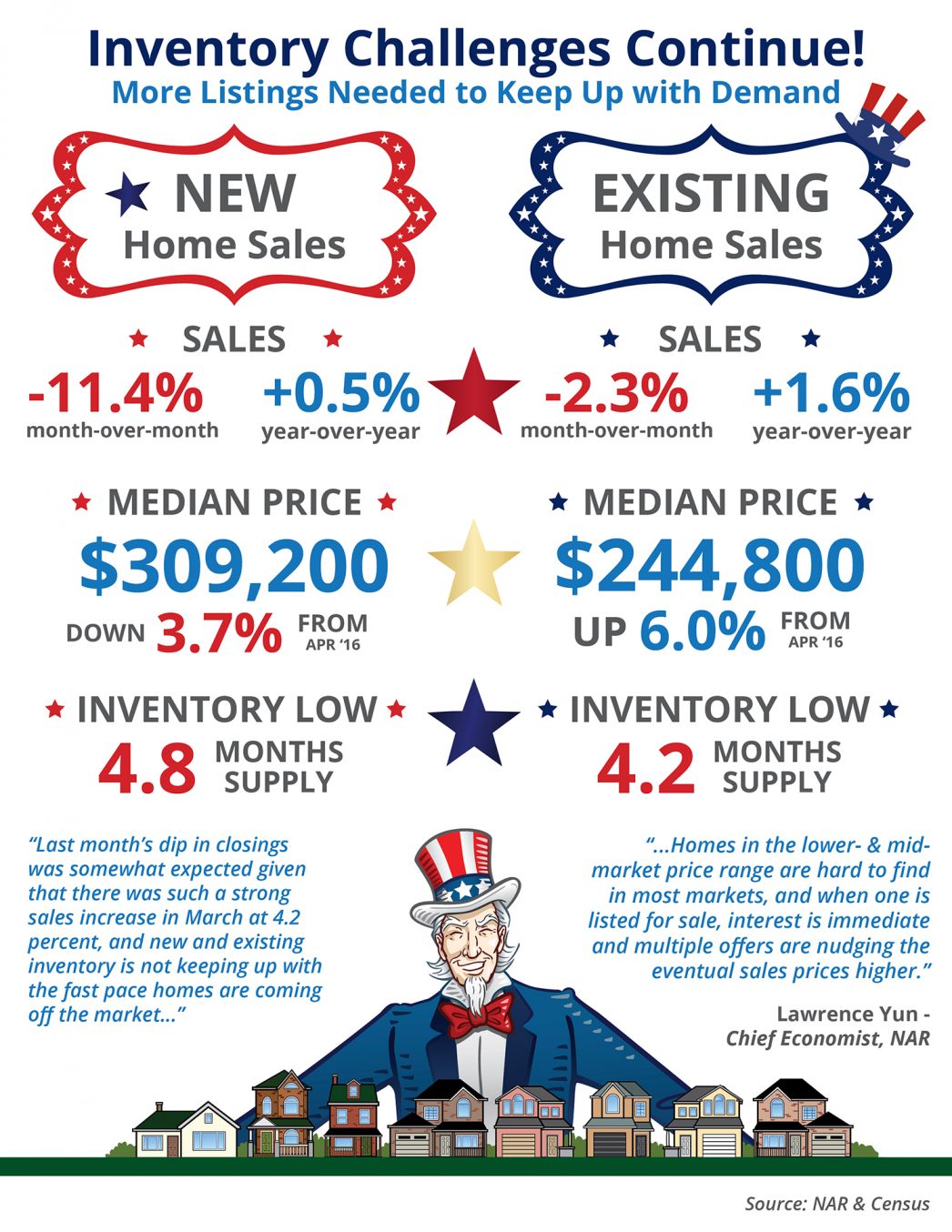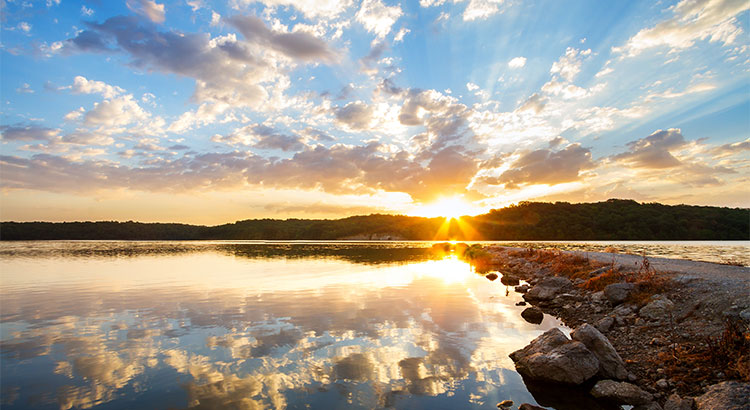 If you are considering moving up to your dream home, it may be better to do it earlier in the year than later. The two components of your monthly mortgage payment (home prices and interest rates) are both projected to increase as the year moves forward, and interest rates may increase rather dramatically. Here are some predictions on where rates will be by the end of the year:
"While full employment and rising inflation are signs of a strong economy, they also have the potential to push mortgage rates and house prices up. The higher rates and higher prices create significant affordability concerns, which may continue to characterize the housing market for the rest of 2017."
"By the time we get to the fourth quarter of this year, we will still be under 5 percent – we are thinking 4.7 percent…Something north of 5 percent by the time we get to 2018, and by the time we get to 2019, we show fourth-quarter rates hitting 5.5 percent."
"Despite some regional disparities, title agents and real estate professionals do not expect increasing mortgage rates to have a significant impact on the housing market this spring. Continued good economic news, increasing Millennial demand and confidence that buyers will remain in the market even if rates exceed 5 percent bode well for 2017 real estate."
"We will probably see rates higher at the end of year, around 4.5%."
Bottom Line
If you are feeling good about your family's economic future and are considering making a move to your dream home, doing it sooner rather than later makes the most sense.