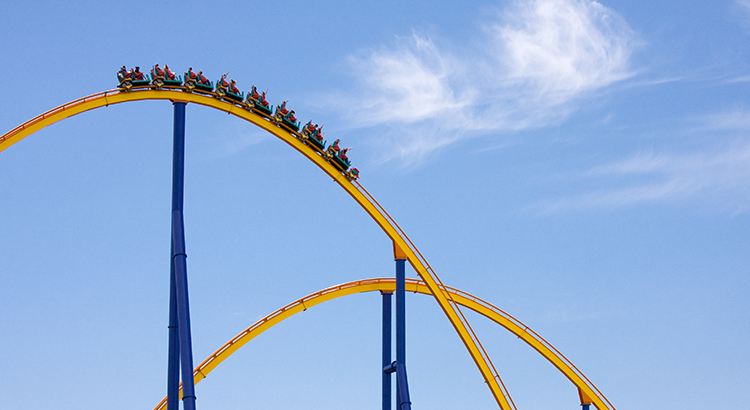 Every winter, families across the country decide if this will be the year that they sell their current houses and move into their dream homes.
Mortgage rates hovered around 4% for all of 2017 which forced many buyers off the fence and into the market, resulting in incredibly strong demand RIGHT NOW!
At the same time, however, inventory levels of homes for sale have dropped dramatically as compared to this time last year.
Trulia reported that "in Q4 2017, U.S. home inventory decreased by 10.5%. That is the biggest drop we've seen since Q2 2013."
Here is a chart showing the decrease in inventory levels by category: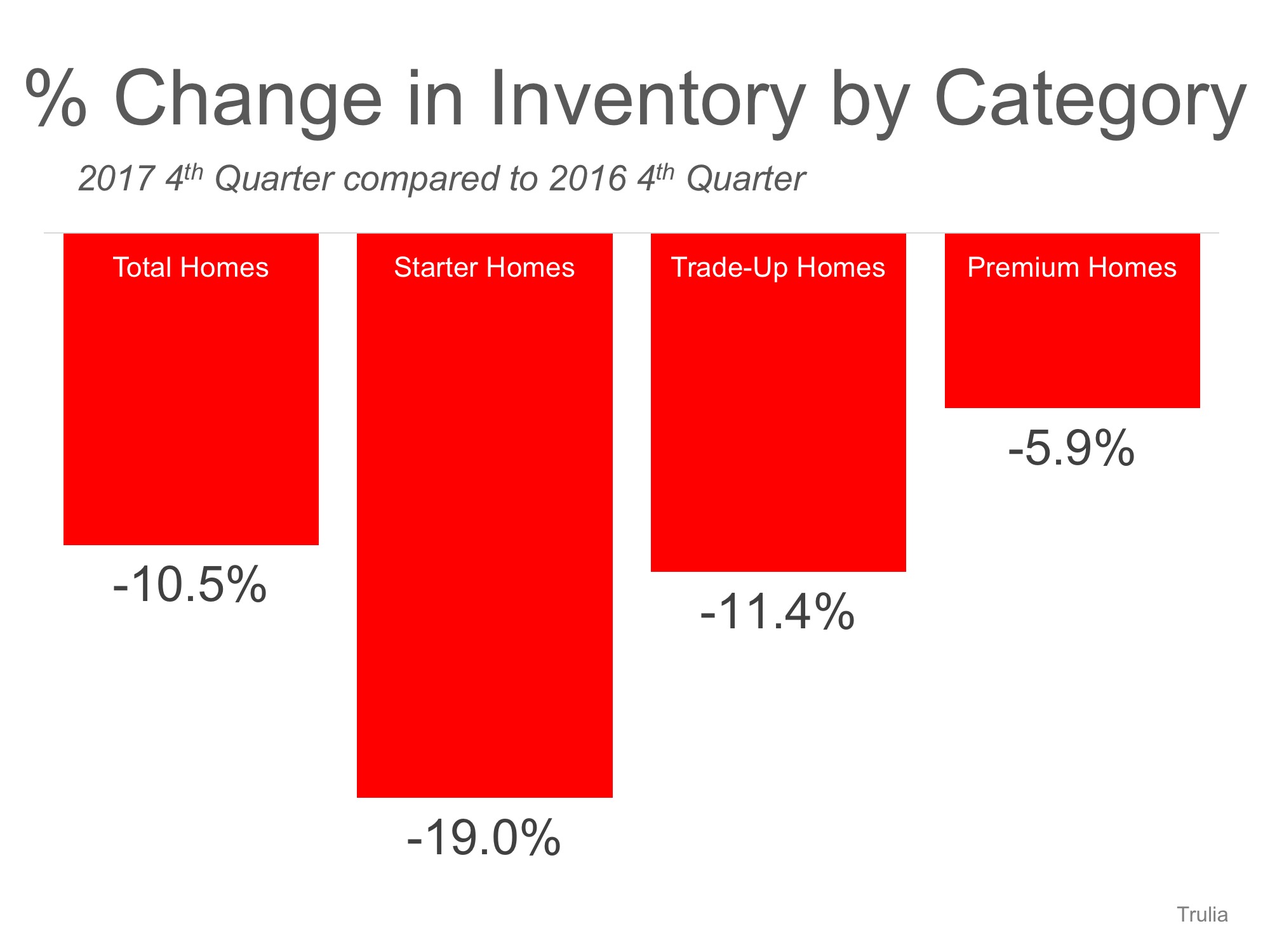 The largest drop in inventory was in the starter home category which saw a 19% dip in listings.
Bottom Line
Demand for your home is very strong right now while your competition (other homes for sale) is at a historically low level. If you are thinking of selling in 2018, now may be the perfect time.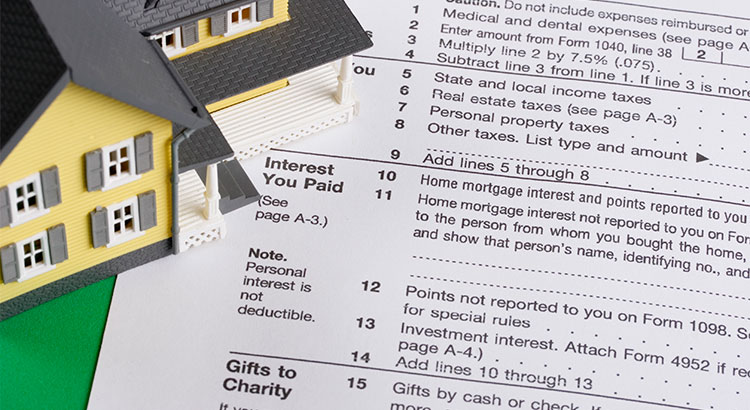 Every month, CoreLogic releases its Home Price Insights Report. In that report, they forecast where they believe residential real estate prices will be in twelve months.
Below is a map, broken down by state, reflecting how home values are forecasted to change by the end of 2018 using data from the most recent report.
As we can see, CoreLogic projects an increase in home values in 49 of 50 states, and Washington, DC (there was insufficient data for HI). Nationwide, they see home prices increasing by 4.2%.
How might the new tax code impact these numbers?
Recently, the National Association of Realtors (NAR) conducted their own analysis to determine the impact the new tax code may have on home values. NAR's analysis:
"…estimated how home prices will change in the upcoming year for each state, considering the impact of the new tax law and the momentum of jobs and housing inventory."
Here is a map based on NAR's analysis: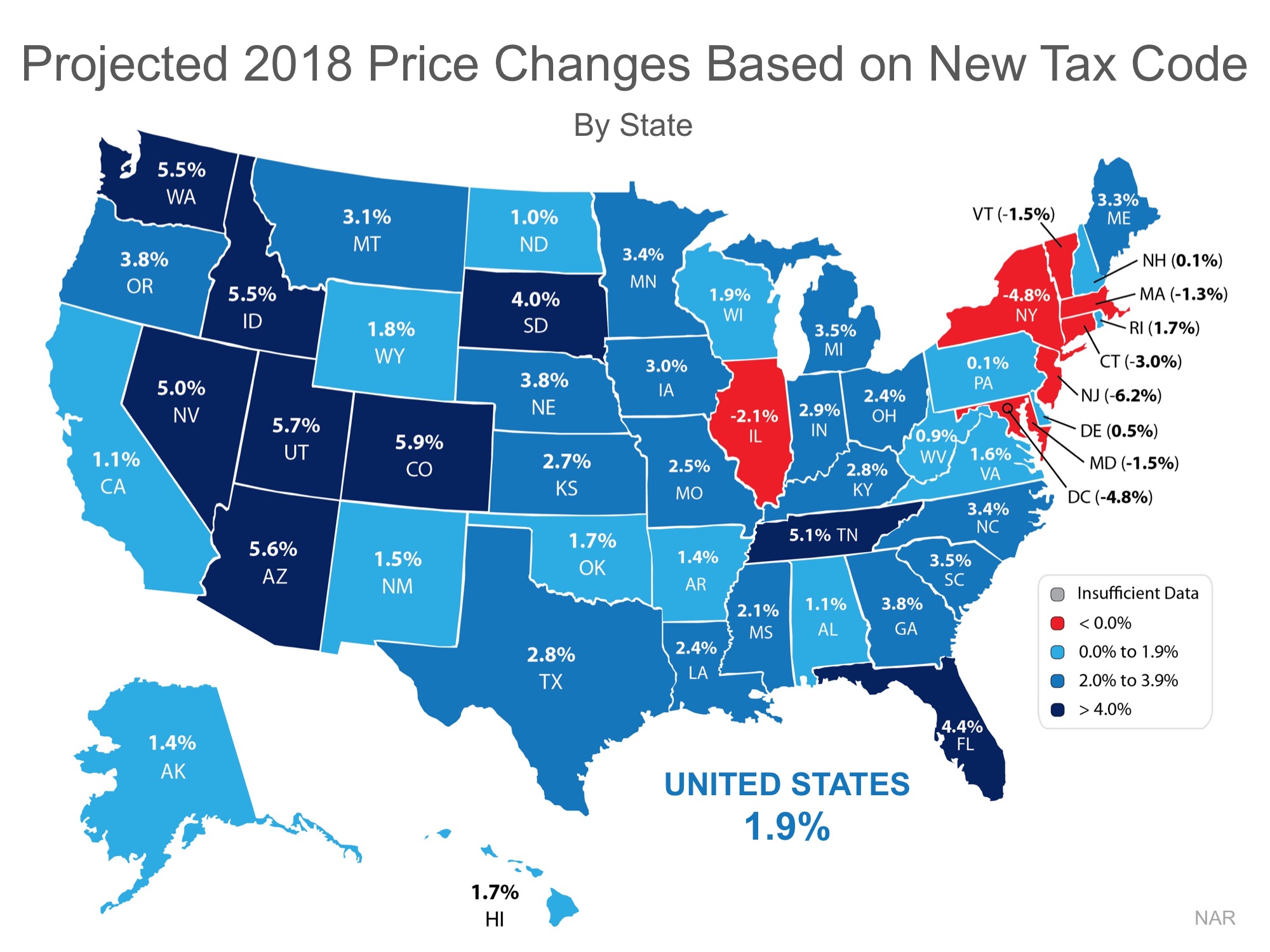 Bottom Line
According to NAR, the new tax code will have an impact on home values across the country. However, the effect will be much less significant than what some originally thought.
According to Ellie Mae's latest Origination Report, the average FICO® Score on all closed loans dropped to 722 which is its lowest mark since April. The average includes all approved refinance and purchase loans.
FHA and VA loans showed the most opportunity for millennials looking to enter the market with low down payments and even lower FICO® Score requirements.
Ellie Mae's Millennial Tracker revealed that those who purchased homes in December with an FHA Loan were able to do so with an average down payment of 4% and a FICO® Score of only 684.
Joe Tyrell, EVP of Corporate Strategy at Ellie Mae commented on the opportunity this brings to buyers,
"With the average credit score dipping, lenders are extending credit to borrowers who may have had no previous access to the housing market."
Bottom Line
More and more potential buyers are able to qualify for a mortgage loan now! If you are debating a home purchase, let's get together and evaluate your ability to buy today!
It is common knowledge that a great number of homes sell during the spring-buying season. For that reason, many homeowners hold off on putting their homes on the market until then. The question is whether or not that will be a good strategy this year.
The other listings that do come out in the spring will represent increased competition to any seller. Do a greater number of homes actually come to the market in the spring as compared to the rest of the year? The National Association of Realtors (NAR) recently revealed the months in which most people listed their homes for sale in 2017. Here is a graphic showing the results:
The three months in the second quarter of the year (represented in red) are consistently the most popular months for sellers to list their homes on the market. Last year, the number of homes available for sale in January was 1,680,000.
That number spiked to 1,970,000 by May!
What does this mean to you?
With the national job situation improving, and mortgage interest rates projected to rise later in the year, buyers are not waiting until the spring; they are out looking for homes right now. If you are looking to sell this year, waiting until the spring to list your home means you will have the greatest competition amongst buyers.
Bottom Line
It may make sense to beat the rush of housing inventory that will enter the market in the spring and list your home today.
Some Highlights:
The National Association of Realtors surveyed their members & released the findings of their Annual Profile of Home Staging.
50% of staged homes saw a 1-10% increase in dollar value offers from buyers.
77% of buyer's agents said staging made it easier for buyers to visualize the home as their own.
The top rooms to stage in order to attract more buyers are the living room, master bedroom, kitchen, and dining room.
According to recently released data from the National Association of Realtors (NAR), the median amount of time a home spent on the market hit an all-time low of only three weeks in 2017.
Strong buyer demand, a good economy, and a low inventory of new and existing homes for sale created the perfect storm to accelerate the time between listing and signing a contract. The time needed to sell a home has dropped substantially since its highest mark of 11 weeks in 2012.
The chart below shows the median weeks on the market from 1987 to today.
Bottom Line
If you are a homeowner who is debating whether or not to list your home for sale, know that national market conditions are primed for a quick turnaround! Let's get together to discuss exactly what's going on in our area, today!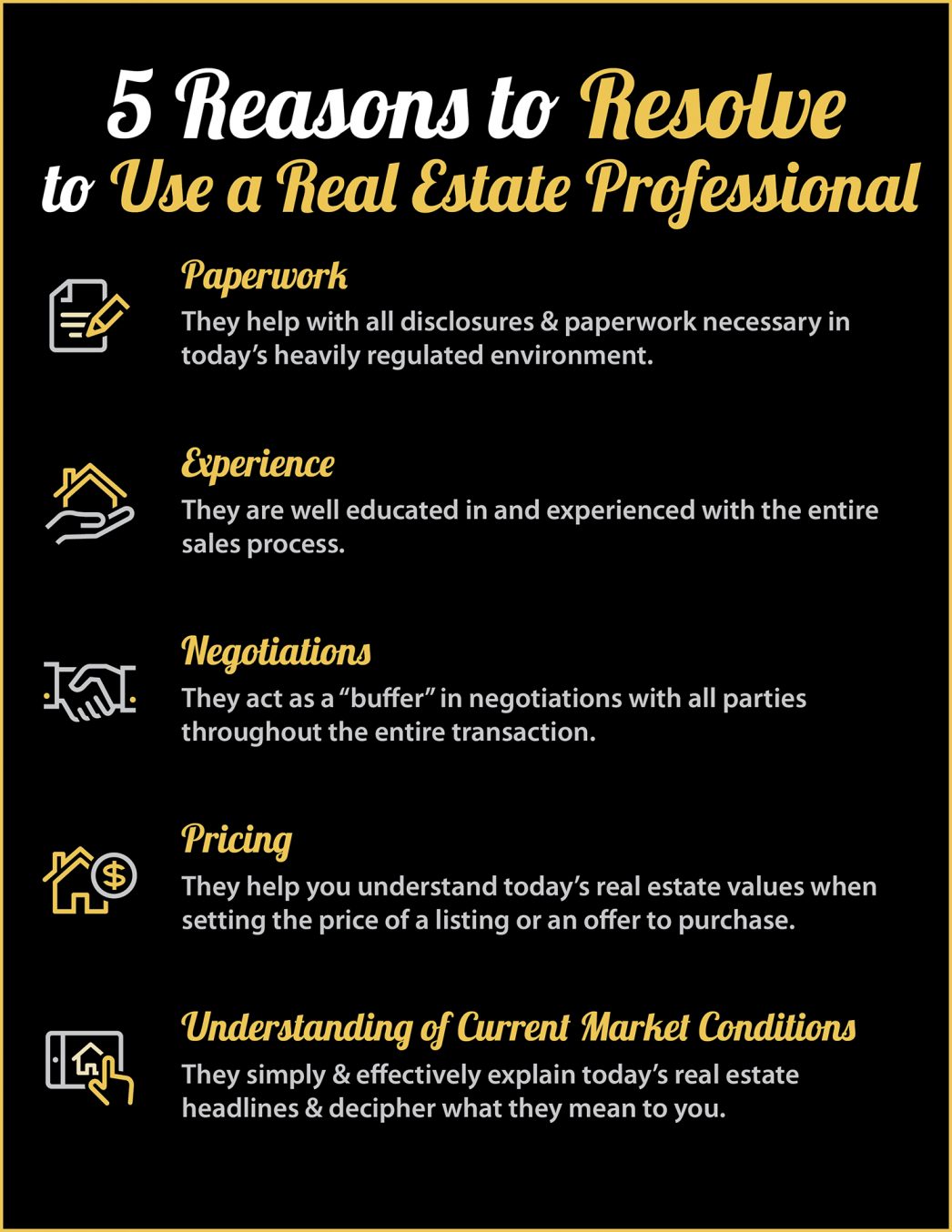 Some Highlights:
As we usher in the new year, one thing is for certain… if you plan to buy or sell a house this year, you need a real estate professional on your team!
There are many benefits to using a local professional!
Pick a professional who knows your local market and can help you achieve your dreams!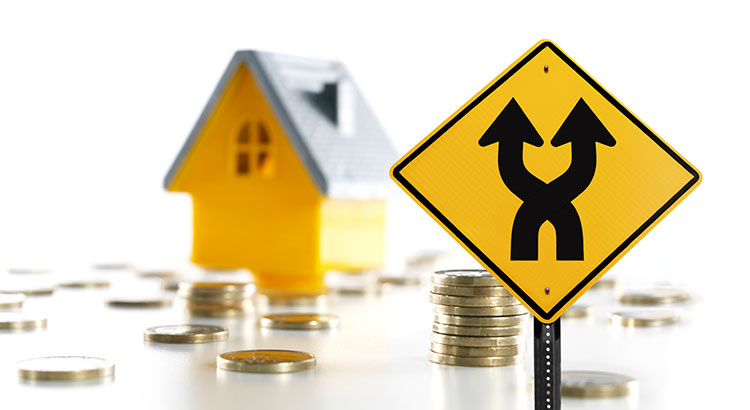 In a recent CNBC article, it was reported that many baby boomers are selling their current homes and moving into rentals, rather than purchasing another home.
"Between 2009 and 2015, the number of renters aged 55 or above rose 28 percent, while those aged 34 or younger only increased 3 percent…

Meanwhile, more than 5 million baby boomers across the nation are expected to rent their next home by 2020, according to a 2016 analysis from Freddie Mac."
This makes sense in the short term for many reasons. If you are moving to a different part of town or a new region of the country, you may decide to rent until you pick the perfect home in an area you love. However, is renting a good long-term strategy?
A mortgage payment remains fixed. Rents, however…
The Census Bureau recently released their 2017 third quarter median rent numbers. Here is a graph showing rent increases from 1988 until today: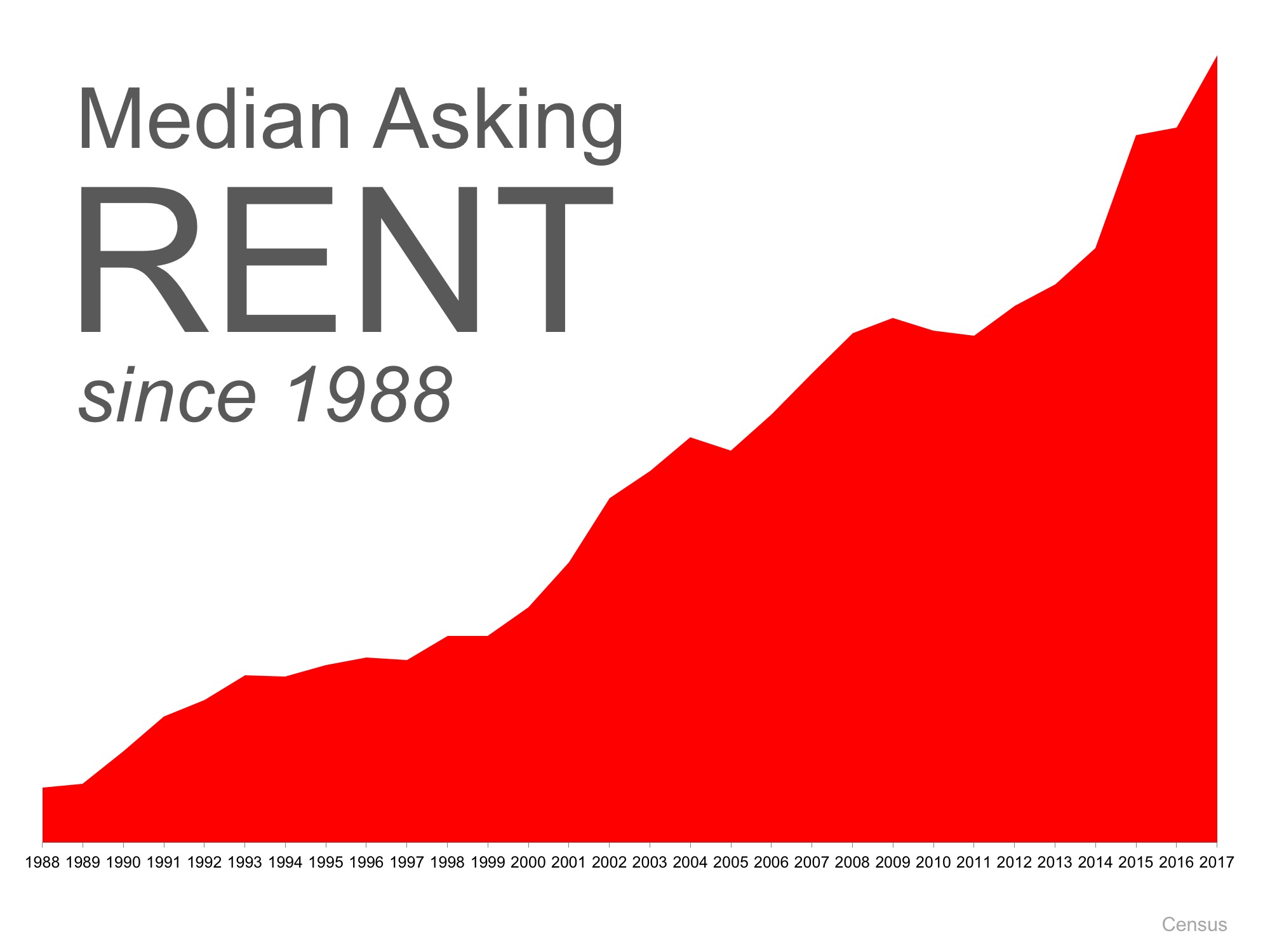 As you can see, rents have steadily increased and are showing no signs of slowing down. If you are faced with making the decision of whether you should rent or buy your next home, you should take this into consideration.
Bottom Line
One way to protect yourself from rising rents is to lock in your housing expense by buying a home instead of renting. Let's get together so we can help you decide what the best step is for you and your family!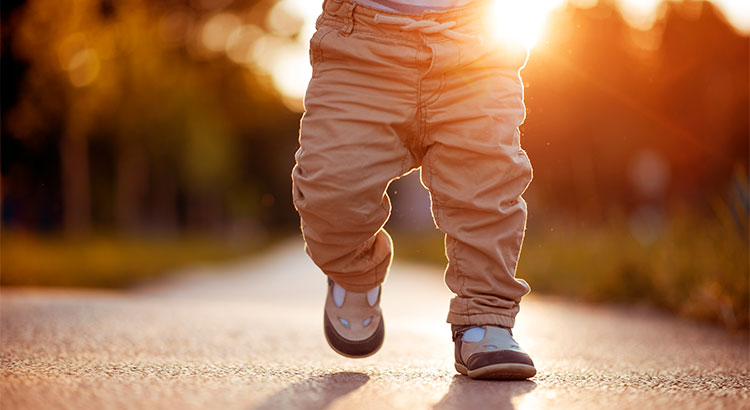 In many markets across the country, the number of buyers searching for their dream homes greatly outnumbers the number of homes for sale. This has led to a competitive marketplace where buyers often need to stand out. One way to show you are serious about buying your dream home is to get pre-qualified or pre-approved for a mortgage before starting your search.
Even if you are in a market that is not as competitive, knowing your budget will give you the confidence of knowing if your dream home is within your reach.
Freddie Mac lays out the advantages of pre-approval in the 'My Home' section of their website:
"It's highly recommended that you work with your lender to get pre-approved before you begin house hunting. Pre-approval will tell you how much home you can afford and can help you move faster, and with greater confidence, in competitive markets."
One of the many advantages of working with a local real estate professional is that many have relationships with lenders who will be able to help you with this process. Once you have selected a lender, you will need to fill out their loan application and provide them with important information regarding "your credit, debt, work history, down payment and residential history." 
Freddie Mac describes the '4 Cs' that help determine the amount you will be qualified to borrow:
Capacity: Your current and future ability to make your payments
Capital or cash reserves: The money, savings, and investments you have that can be sold quickly for cash
Collateral: The home, or type of home, that you would like to purchase
Credit: Your history of paying bills and other debts on time
Getting pre-approved is one of many steps that will show home sellers that you are serious about buying, and it often helps speed up the process once your offer has been accepted.
Bottom Line
Many potential home buyers overestimate the down payment and credit scores needed to qualify for a mortgage today. If you are ready and willing to buy, you may be pleasantly surprised at your ability to do so as well.