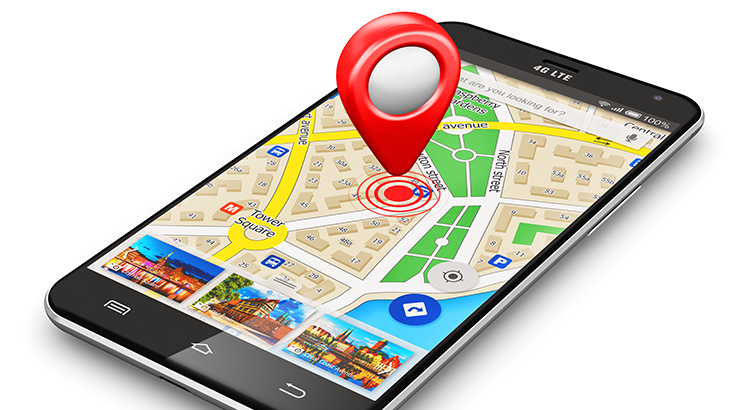 The price of any item is determined by the supply of that item, as well as the market demand. The National Association of REALTORS (NAR) surveys "over 50,000 real estate practitioners about their expectations for home sales, prices and market conditions" for their monthly REALTORS Confidence Index.
Their latest edition sheds some light on the relationship between Seller Traffic (supply) and Buyer Traffic (demand).
Buyer Demand
The map below was created after asking the question: "How would you rate buyer traffic in your area?"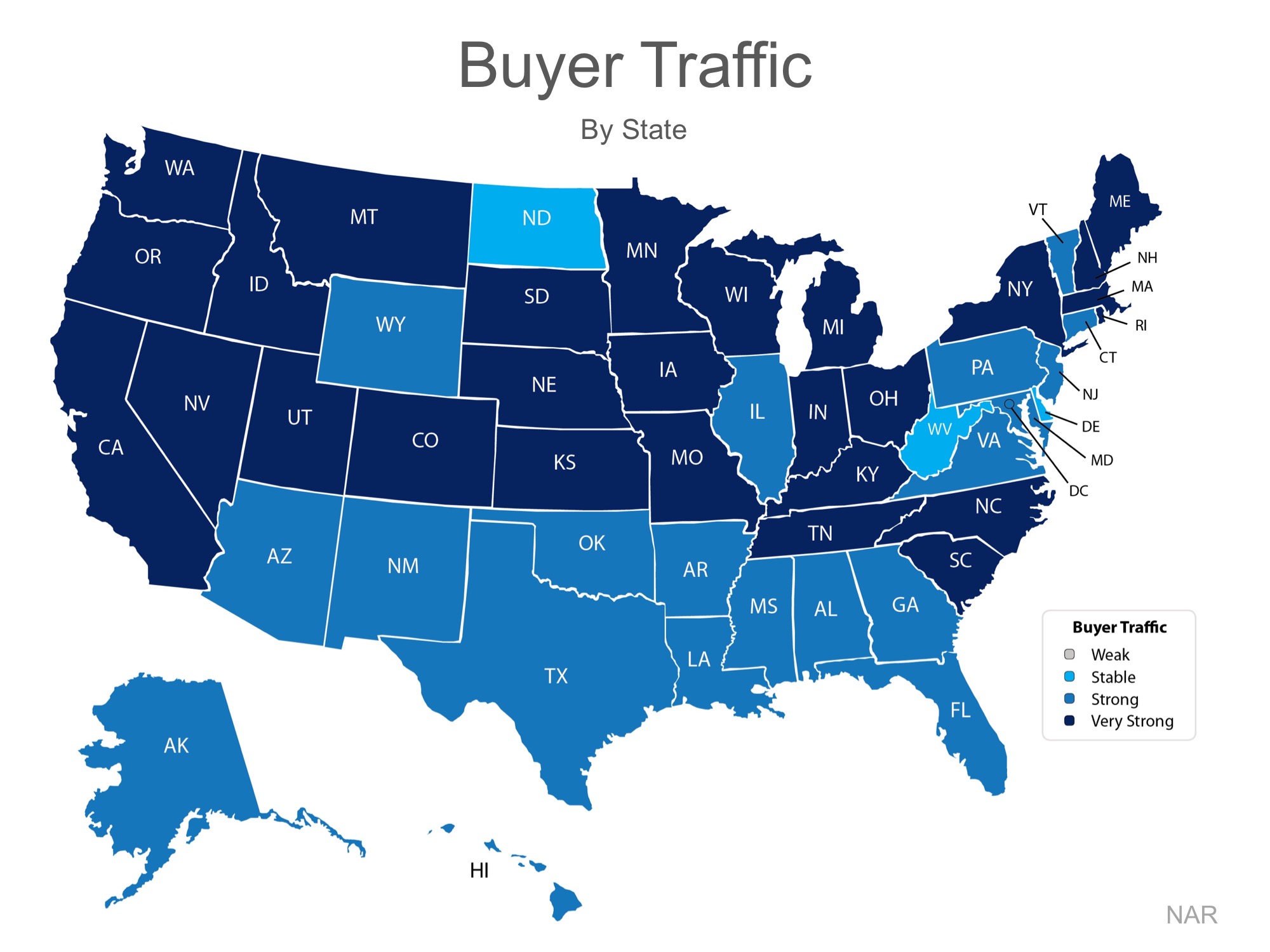 The darker the blue, the stronger the demand for homes in that area. Only three states had a 'stable' demand level.
Seller Supply
The index also asked: "How would you rate seller traffic in your area?"
As you can see from the map below, 21 states report a 'weak' sellers traffic, 25 states report a 'stable' sellers traffic, only 4 states and DC report a 'strong' sellers traffic. Meaning there are far fewer homes on the market than what is needed to satisfy the buyers who are out looking for their dream homes.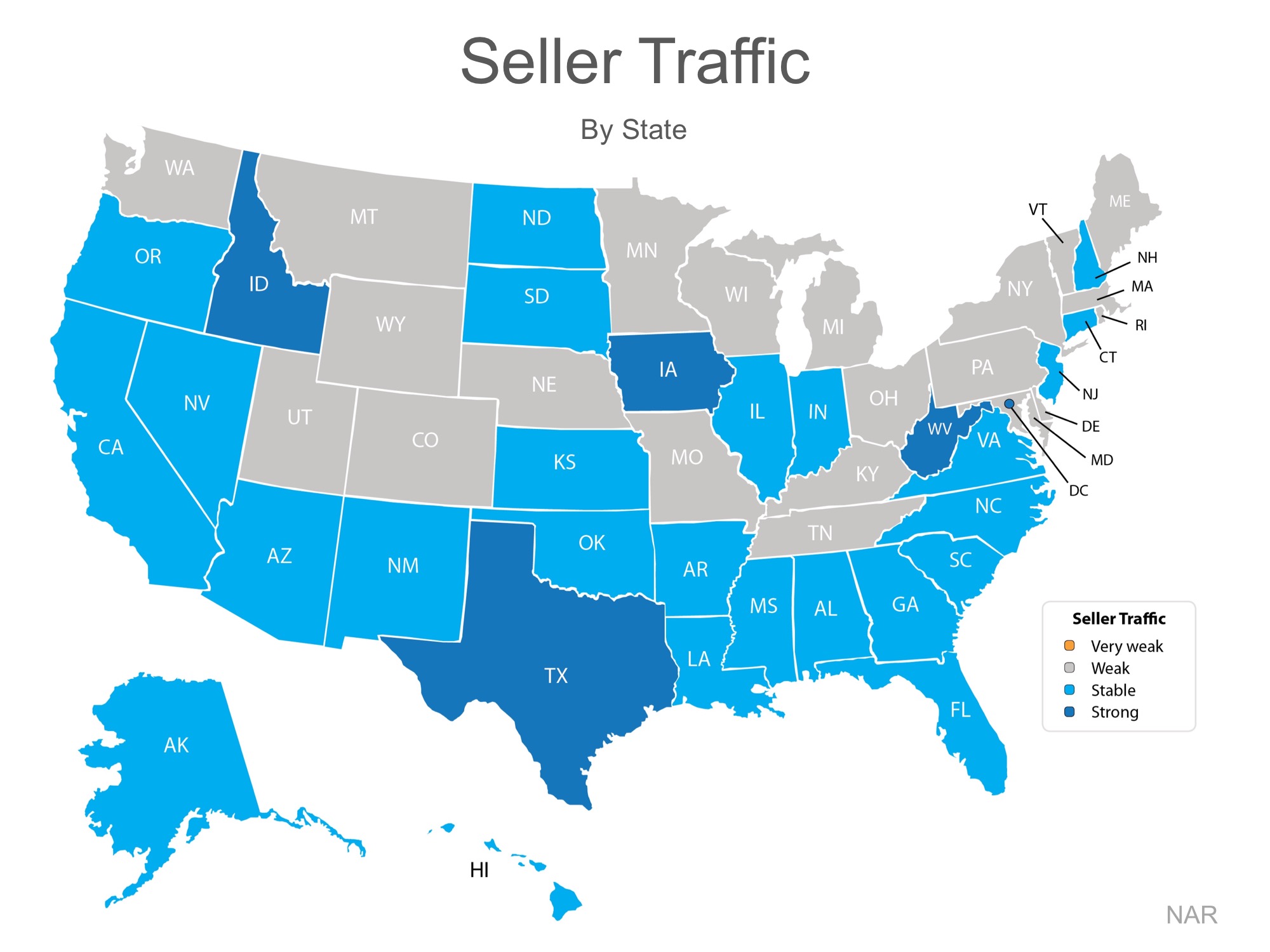 Bottom Line
Looking at the maps above, it is not hard to see why prices are appreciating in many areas of the country. Until the supply of homes for sale starts to meet the buyer demand, prices will continue to increase. If you are debating listing your home for sale, let's get together to help you capitalize on the demand in the market now!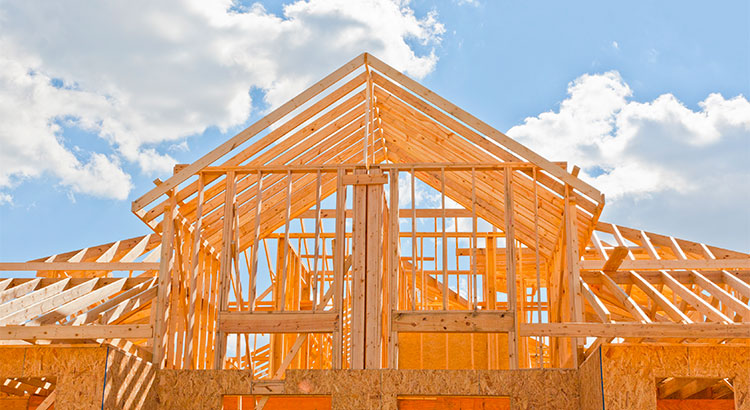 Many real estate economists have called on new home builders to ramp up production to help relieve the shortage of inventory of homes for sale throughout the United States. The added inventory would no doubt aid buyers in their search to secure their dream home, while also helping to ease price increases throughout the country.
Unfortunately for builders, there are many forces that are making it difficult for them to do just that!
Last week at the National Association of Real Estate Editors 51st Annual Conference, CoreLogic's Chief Economist Frank Nothaft broke down the 4 'L's of New Home Construction: Lots, Labor, Lumber, and Lending.
The concept of supply and demand is ripe in the new home construction industry. The four 'L's of new home construction are each suffering a supply problem, and with that comes added costs. Let's break it down!
Lots – There is a shortage of land near metros at an affordable price, causing builders to move farther and farther away from cities to keep costs down. This isn't always an attractive option for those who want to stay close to work.
Labor – The Great Recession forced many skilled construction and trade workers to find other sources of income once their jobs were lost at the time of the crash. Even though the overall housing market has recovered, these workers have not returned. Those who remain are starting to age out and retire, causing even more of a shortage and additional costs.
Lumber – The cost to build a new home is directly tied to the cost of the lot and the cost of the supplies needed to build the home. Lumber costs continue to escalate due to policies restricting the importation of Canadian lumber, making larger luxury homes an attractive option to recoup costs when selling, rather than building smaller single-family homes and making less profit.
Below is a graph showing the increase in cost of 1,000 board feet of framing lumber.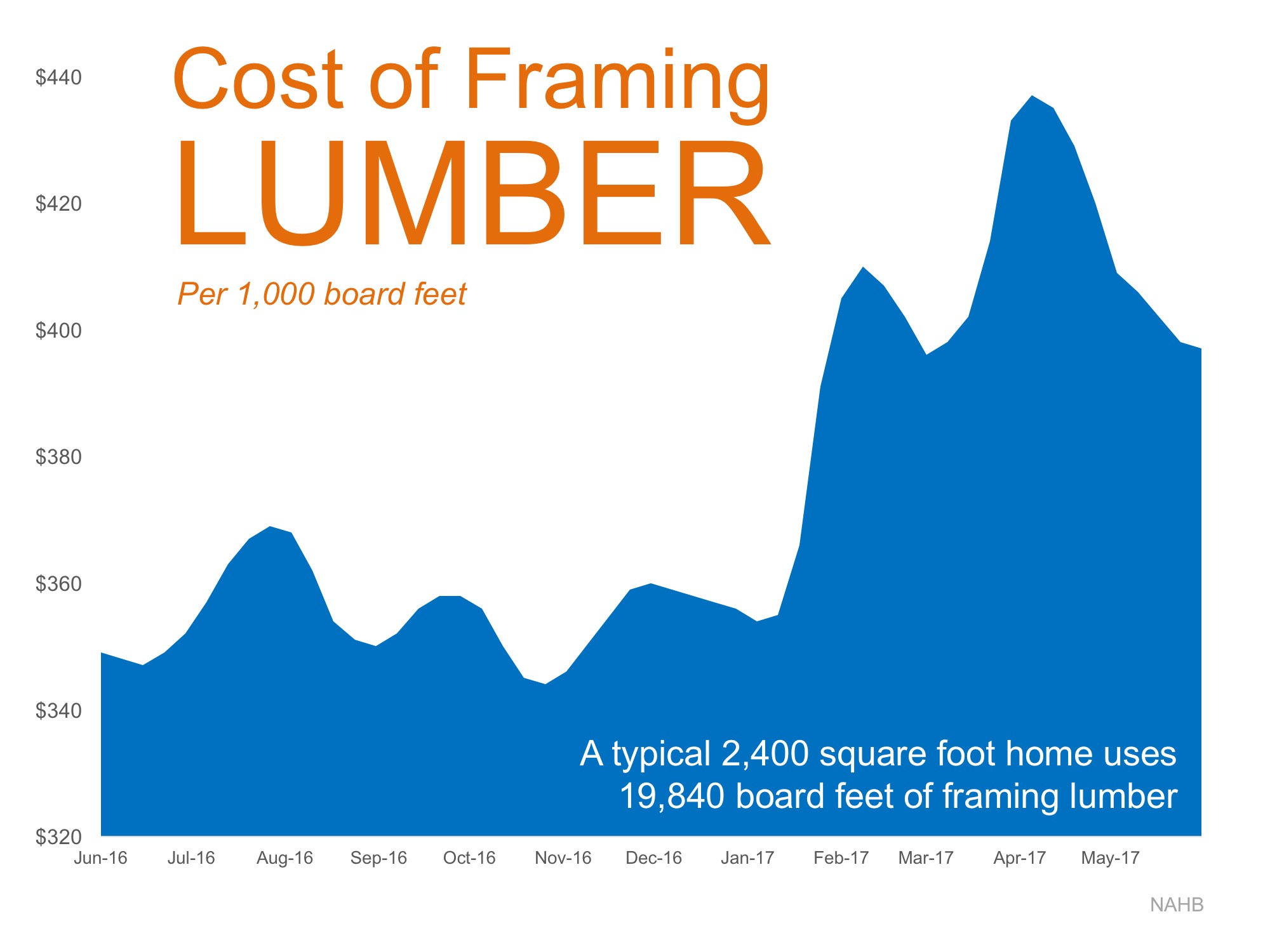 Year-over-year, lumber costs are up 13% after reaching a high of $433 in the second week of April.
Lending – During the Great Recession, many small community banks were forced to close their doors. These banks were a great source of capital and lending for builders looking to borrow money at a low interest rate in the community in which they were building. Tougher lending standards have made borrowing funds more expensive and more difficult for builders.
Bottom Line
Additional costs across all 4 'L's have made building luxury properties more attractive to builders as they are able to make a larger margin with the higher sales price. The move to scale down to starter and trade up homes to help with supply will mean any additional costs are absorbed by the builders unless the supply of the 4 'L's can increase!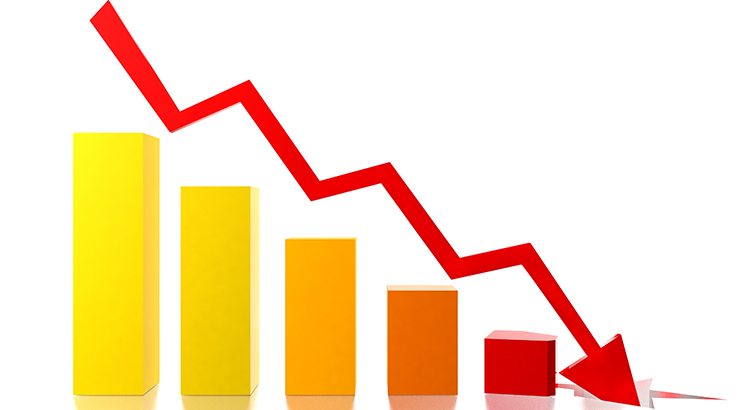 Every summer, families across the country decide if this will be the year they sell their current house and move into their dream home.
Mortgage rates have hovered around 4% for all of 2017, forcing buyers off the fence and into the market, resulting in incredibly strong demand RIGHT NOW!! At the same time, inventory levels of homes for sale have dropped dramatically as compared to this time last year.
Trulia reported that "U.S. home inventory has tumbled 8.9% over the past year and has now fallen for nine consecutive quarters." There is now 20% less inventory than there was five years ago.
Here is a chart showing the decrease in inventory levels by category: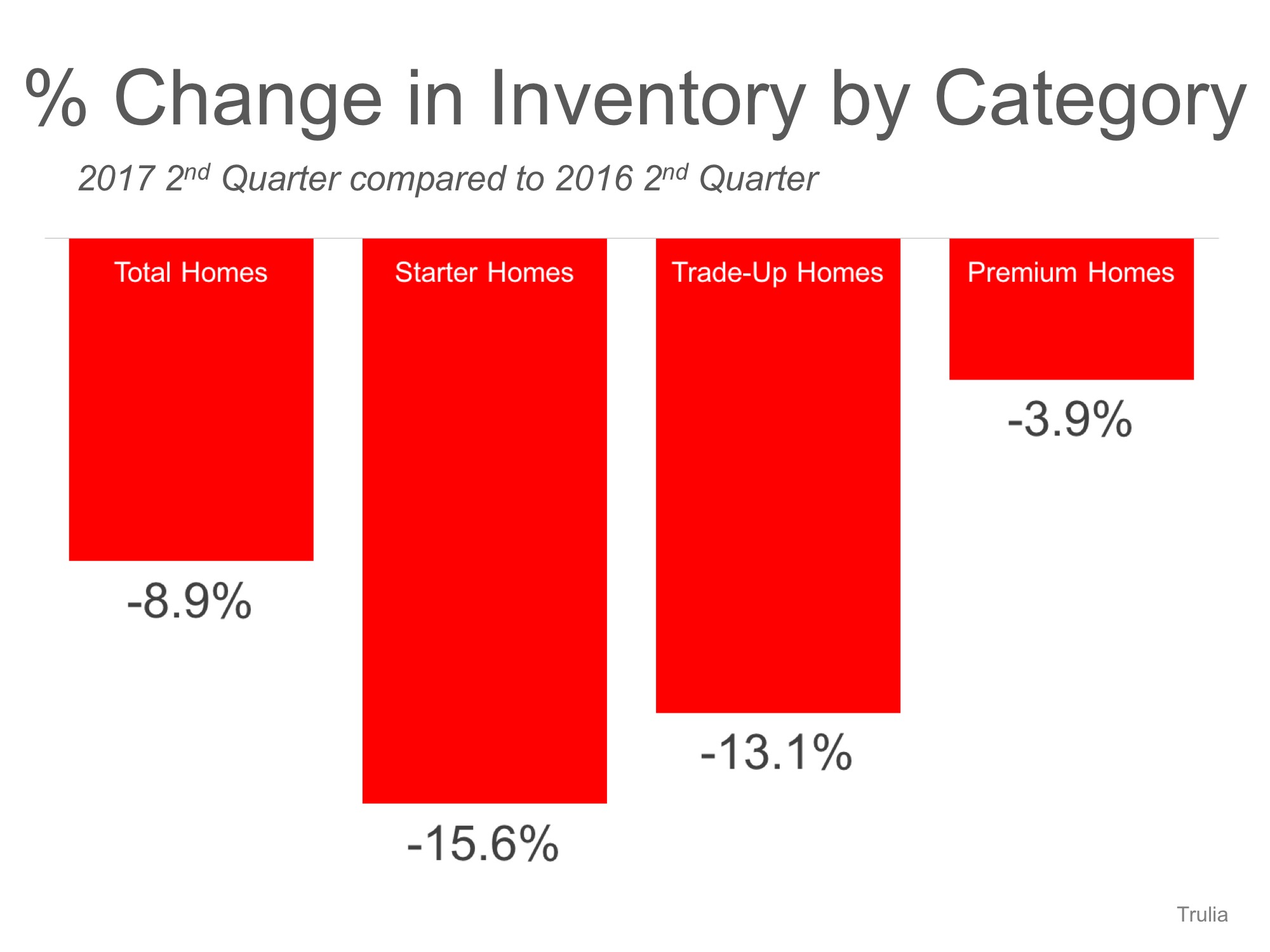 Bottom Line
Demand for your home is very strong right now while your competition (other homes for sale) is at a historically low level. If you are thinking of selling in 2017, now may be the perfect time.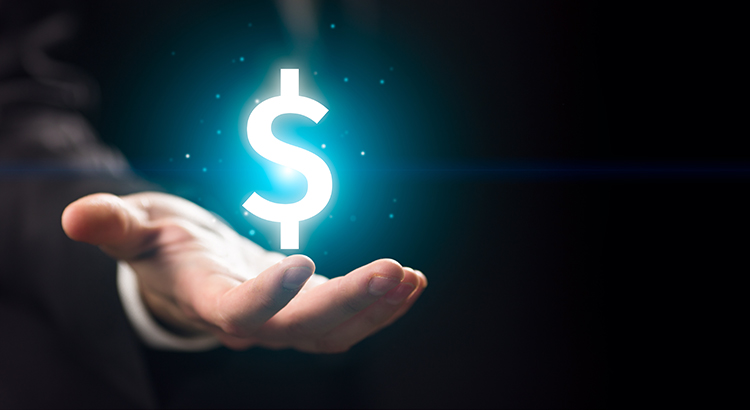 According to Freddie Mac's latest Primary Mortgage Market Survey, interest rates for a 30-year fixed rate mortgage are currently at 3.96%, which is still near record lows in comparison to recent history!
The interest rate you secure when buying a home not only greatly impacts your monthly housing costs, but also impacts your purchasing power.
Purchasing power, simply put, is the amount of home you can afford to buy for the budget you have available to spend. As rates increase, the price of the house you can afford will decrease if you plan to stay within a certain monthly housing budget.
The chart below shows what impact rising interest rates would have if you planned to purchase a home within the national median price range, and planned to keep your principal and interest payments between $1,850-$1,900 a month.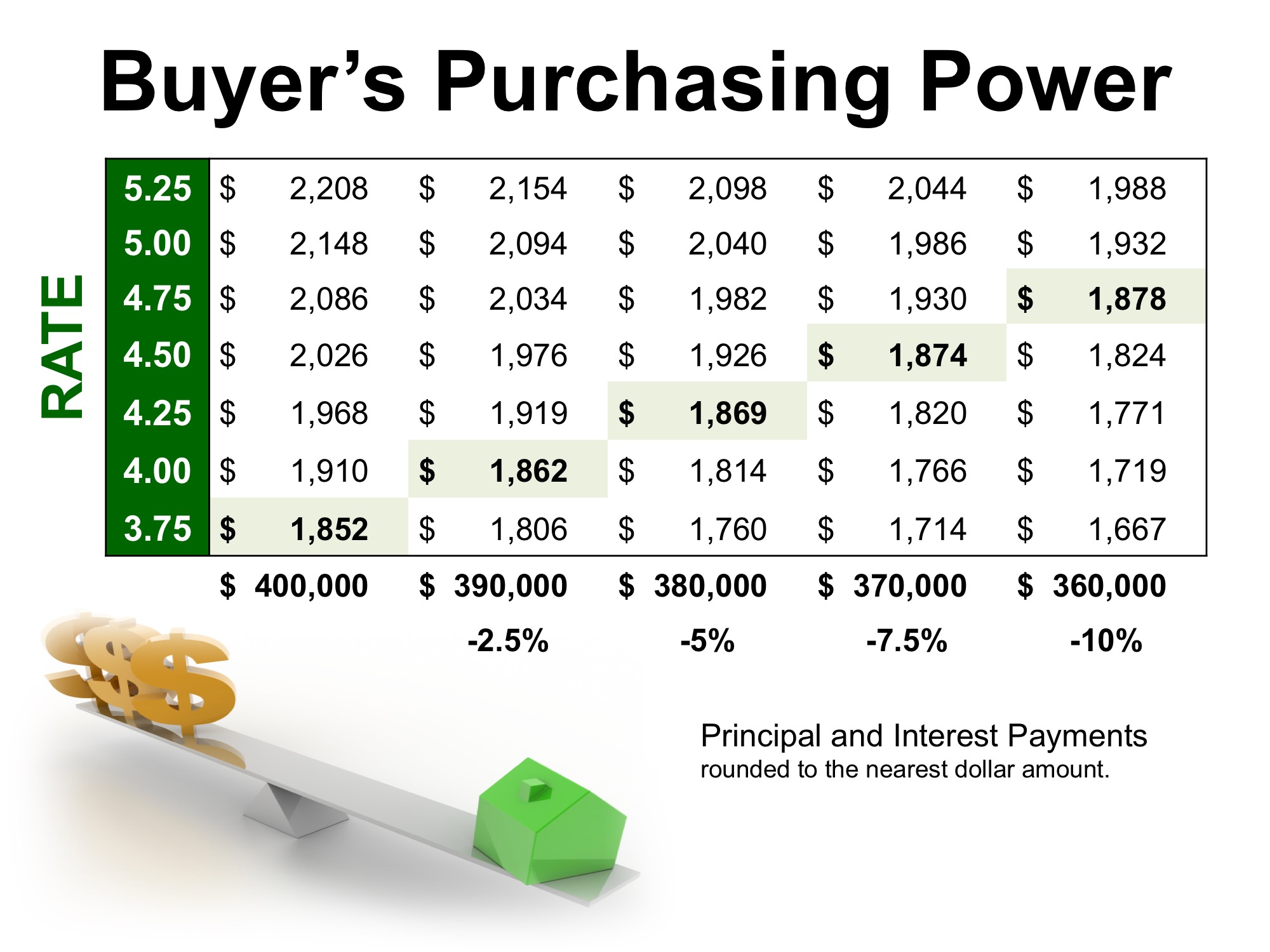 With each quarter of a percent increase in interest rate, the value of the home you can afford decreases by 2.5% (in this example, $10,000). Experts predict that mortgage rates will be closer to 5% by this time next year.
Act now to get the most house for your hard-earned money.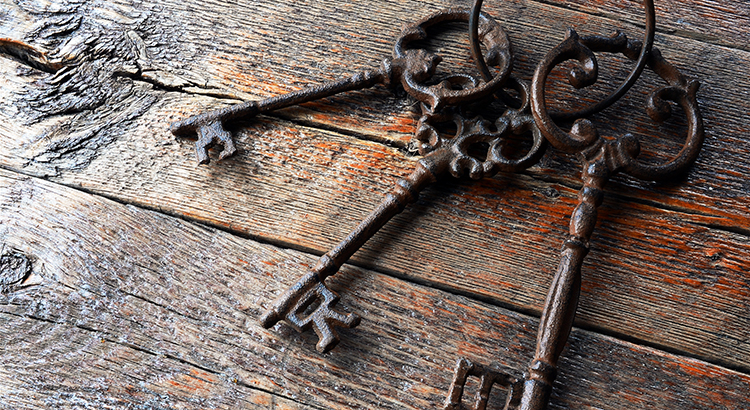 If you are debating purchasing a home right now, you are probably getting a lot of advice. Though your friends and family will have your best interests at heart, they may not be fully aware of your needs and what is currently happening in the real estate market.
Ask yourself the following 3 questions to help determine if now is a good time for you to buy in today's market.
1. Why am I buying a home in the first place? 
This is truly the most important question to answer. Forget the finances for a minute. Why did you even begin to consider purchasing a home? For most, the reason has nothing to do with money.
For example, a survey by Braun showed that over 75% of parents say, "their child's education is an important part of the search for a new home."
This survey supports a study by the Joint Center for Housing Studies at Harvard University which revealed that the top four reasons Americans buy a home have nothing to do with money. They are:
A good place to raise children and for them to get a good education
A place where you and your family feel safe
More space for you and your family
Control of that space
What does owning a home mean to you? What non-financial benefits will you and your family gain from owning a home? The answer to that question should be the biggest reason you decide to purchase or not.
2. Where are home values headed?
According to the latest Existing Home Sales Report from the National Association of Realtors (NAR), the median price of homes sold in May (the latest data available) was $252,800, which is up 5.8% from last year. This increase also marks the 63rd consecutive month with year-over-year gains.
If we look at home prices year over year, CoreLogic is forecasting an increase of 5.3% over the next twelve months. In other words, a home that costs you $250,000 today will cost you an additional $13,250 if you wait until next year to buy it.
What does that mean to you?
Simply put, with prices increasing each month, it might cost you more if you wait until next year to buy. Your down payment will also need to be higher in order to account for the higher price of the home you wish to buy. 
3. Where are mortgage interest rates headed?
A buyer must be concerned about more than just prices. The 'long-term cost' of a home can be dramatically impacted by even a small increase in mortgage rates.
The Mortgage Bankers Association (MBA), NAR, and Fannie Mae have all projected that mortgage interest rates will increase over the next twelve months, as you can see in the chart below: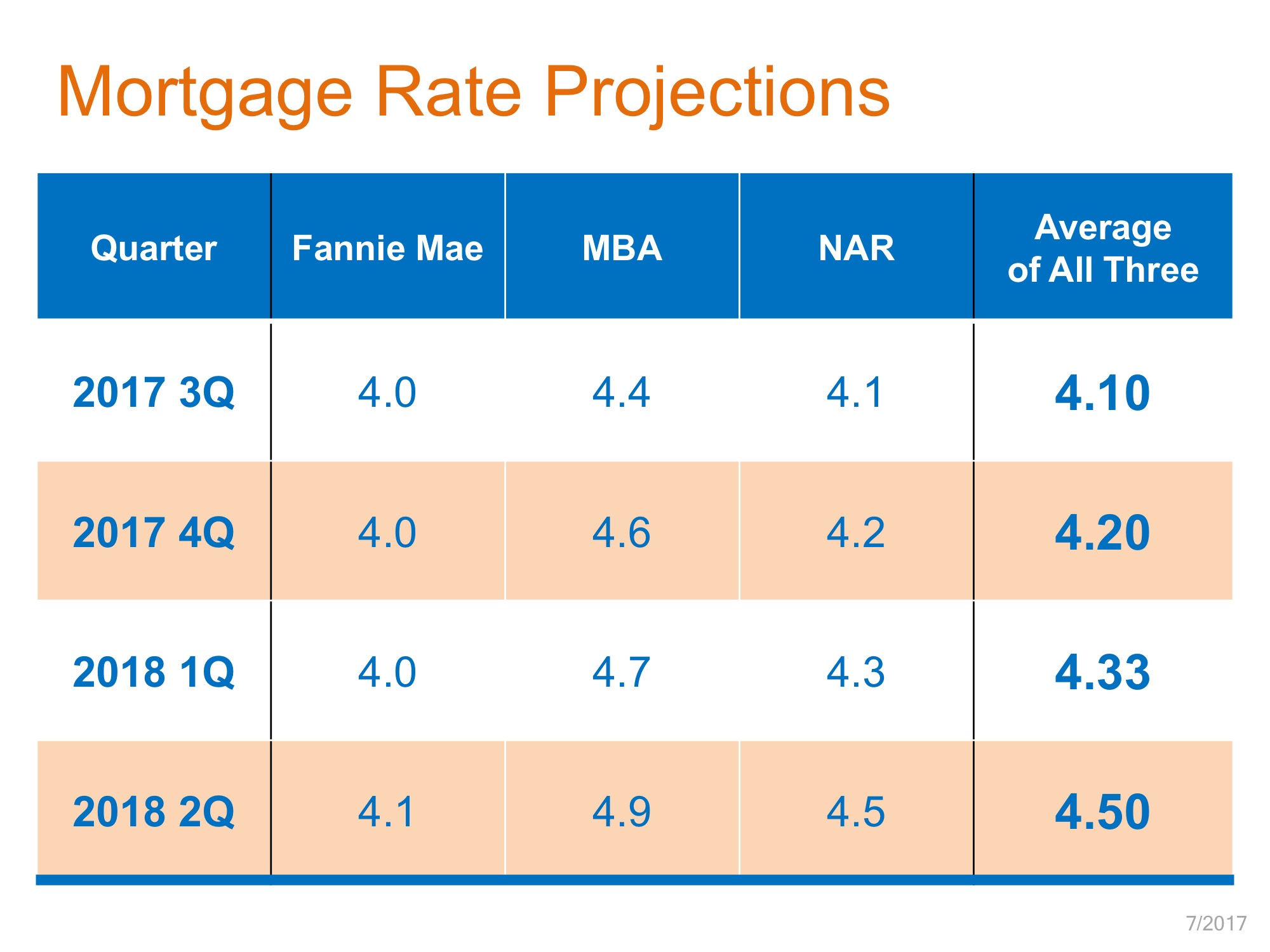 Bottom Line
Only you and your family will know for certain if now is the right time to purchase a home. Answering these questions will help you make that decision.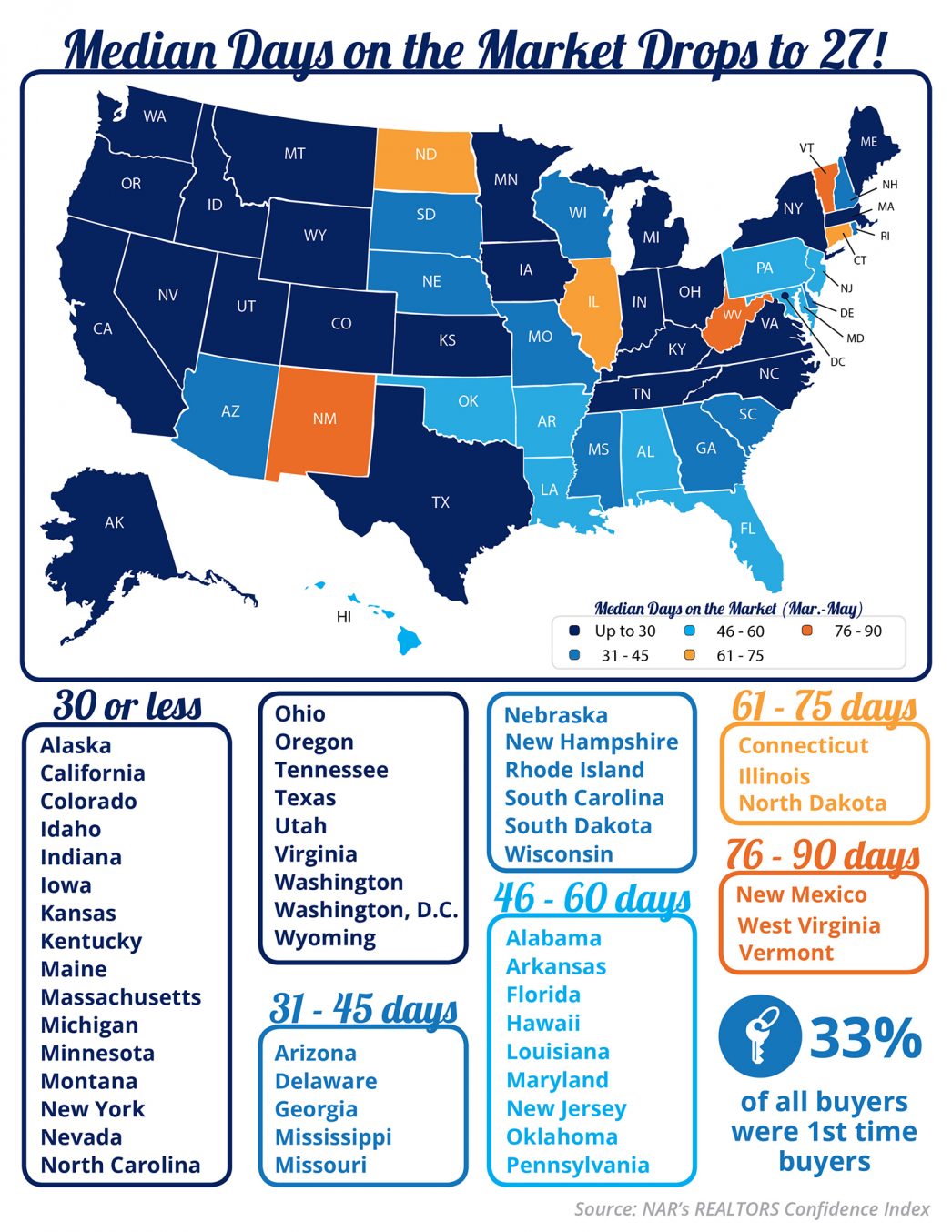 Some Highlights:
The National Association of REALTORS® surveyed their members for their monthly Confidence Index.
The REALTORS® Confidence Index is a key indicator of housing market strength based on a monthly survey sent to over 50,000 real estate practitioners. Practitioners are asked about their expectations for home sales, prices and market conditions.
Homes sold in less than a month in 24 out of 50 states, and Washington D.C.
Homes typically went under contract in 27 days in May!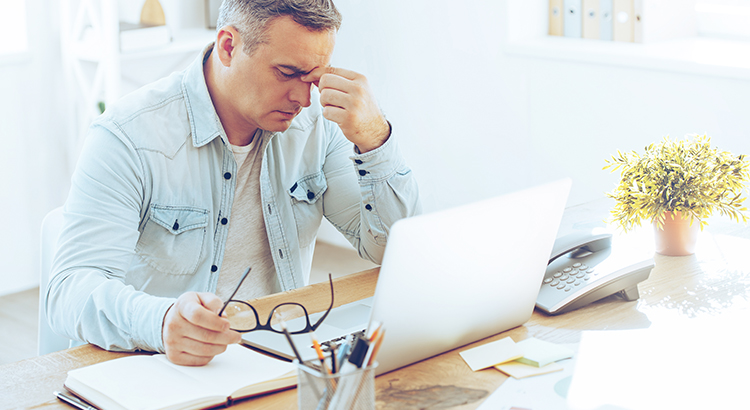 In today's market, with home prices rising and a lack of inventory, some homeowners may consider trying to sell their homes on their own, known in the industry as a For Sale by Owner (FSBO). There are several reasons why this might not be a good idea for the vast majority of sellers.
Here are the top five reasons:
1. Exposure to Prospective Buyers 
Recent studies have shown that 94% of buyers search online for a home. That is in comparison to only 16% looking at print newspaper ads. Most real estate agents have an internet strategy to promote the sale of your home. Do you?
2. Results Come from the Internet
Where did buyers find the homes they actually purchased?
51% on the internet
34% from a Real Estate Agent
8% from a yard sign
1% from newspapers
The days of selling your house by just putting up a sign and putting it in the paper are long gone. Having a strong internet strategy is crucial.
3. There Are Too Many People to Negotiate With 
Here is a list of some of the people with whom you must be prepared to negotiate if you decide to For Sale by Owner:
The buyer who wants the best deal possible
The buyer's agent who solely represents the best interest of the buyer
The buyer's attorney (in some parts of the country)
The home inspection companies, which work for the buyer and will almost always find some problems with the house
The appraiser if there is a question of value
4. FSBOing Has Become More And More Difficult
The paperwork involved in selling and buying a home has increased dramatically as industry disclosures and regulations have become mandatory. This is one of the reasons that the percentage of people FSBOing has dropped from 19% to 8% over the last 20+ years. 
The 8% share represents the lowest recorded figure since NAR began collecting data in 1981.
5. You Net More Money When Using an Agent 
Many homeowners believe that they will save the real estate commission by selling on their own. Realize that the main reason buyers look at FSBOs is because they also believe they can save the real estate agent's commission. The seller and buyer can't both save the commission.
Studies have shown that the typical house sold by the homeowner sells for $185,000, while the typical house sold by an agent sells for $245,000. This doesn't mean that an agent can get $60,000 more for your home, as studies have shown that people are more likely to FSBO in markets with lower price points. However, it does show that selling on your own might not make sense.
Bottom Line
Before you decide to take on the challenges of selling your house on your own, let's get together and discuss the options available in your market today.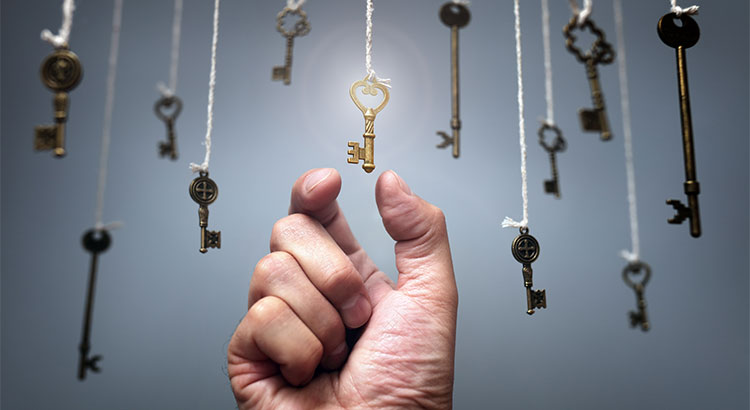 In Realtor.com's recent article, "Home Buyers' Top Mortgage Fears: Which One Scares You?" they mention that "46% of potential home buyers fear they won't qualify for a mortgage to the point that they don't even try."
Myth #1: "I Need a 20% Down Payment"
Buyers overestimate the down payment funds needed to qualify for a home loan. According to the First Quarter 2017 Homeownership Program Index (HPI) from Down Payment Resource, saving for a down payment was the barrier that kept 70% of renters from buying.
Rob Chrane, CEO of Down Payment Resource had this to say,
"There are many mortgage-ready renters today, but they don't know it. Often, homebuyers remain sidelined for years due to the down payment."
Many believe that they need at least 20% down to buy their dream home, but programs are available that allow buyers put down as little as 3%. Many renters may actually be able to enter the housing market sooner than they ever imagined with new programs that have emerged allowing less cash out of pocket.
Myth #2: "I Need a 780 FICO® Score or Higher to Buy"
The survey revealed that 59% of Americans either don't know (54%) or are misinformed (5%) about what FICO® score is necessary to qualify.
Many Americans believe a 'good' credit score is 780 or higher.
To help debunk this myth, let's take a look at Ellie Mae's latest Origination Insight Report, which focuses on recently closed (approved) loans.
As you can see in the chart above, 53.2% of approved mortgages had a credit score of 600-749.
Bottom Line
Whether buying your first home or moving up to your dream home, knowing your options will make the mortgage process easier. Your dream home may already be within your reach.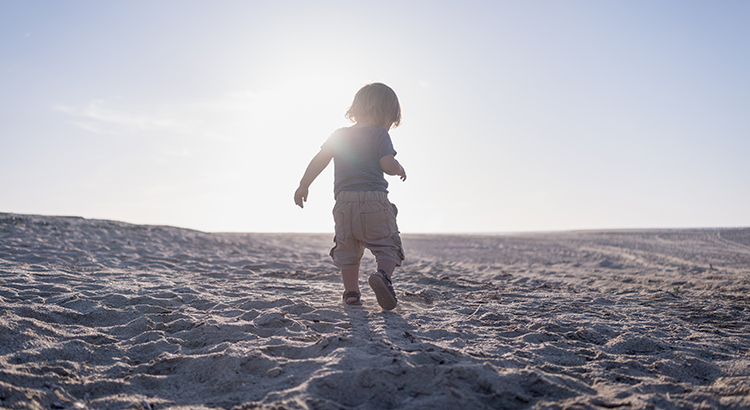 In many markets across the country, the number of buyers searching for their dream homes greatly outnumbers the amount of homes for sale. This has led to a competitive marketplace where buyers often need to stand out. One way to show you are serious about buying your dream home is to get pre-qualified or pre-approved for a mortgage before starting your search.
Even if you are in a market that is not as competitive, knowing your budget will give you the confidence of knowing if your dream home is within your reach.
Freddie Mac lays out the advantages of pre-approval in the My Home section of their website:
"It's highly recommended that you work with your lender to get pre-approved before you begin house hunting. Pre-approval will tell you how much home you can afford and can help you move faster, and with greater confidence, in competitive markets."
One of the many advantages of working with a local real estate professional is that many have relationships with lenders who will be able to help you with this process. Once you have selected a lender, you will need to fill out their loan application and provide them with important information regarding "your credit, debt, work history, down payment and residential history." 
Freddie Mac describes the 4 Cs that help determine the amount you will be qualified to borrow:
Capacity: Your current and future ability to make your payments
Capital or cash reserves: The money, savings, and investments you have that can be sold quickly for cash
Collateral: The home, or type of home, that you would like to purchase
Credit: Your history of paying bills and other debts on time
Getting pre-approved is one of many steps that will show home sellers that you are serious about buying, and it often helps speed up the process once your offer has been accepted.
Bottom Line
Many potential home buyers overestimate the down payment and credit scores needed to qualify for a mortgage today. If you are ready and willing to buy, you may be pleasantly surprised at your ability to do so as well.